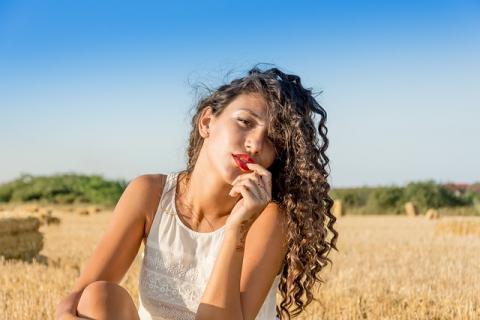 Today, thick, natural eyebrows are among the most highly coveted traits seen on models and celebrities.  But this is a newer trend – I spent my formative years destroying my own gorgeous brows with a pair of tweezers, trying to shape them into the perfect arcs I saw on the models.
I'm not the only one that fell victim to the peer pressure of the early 2000s with its ultra-thin brow trend. Many of my peers also lament their past over-plucking habits. One of the saddest things about eyebrow hair is that once the follicles have been plucked too much, they usually don't grow back on their own. There are also those who were just born with naturally sparse brows. But there is a solution: castor oil.
The first time it was recommended to me as a "magical" hair regrowth tool, I was skeptical. Several months of regular application later, I'm a believer. Granted, I have naturally thick hair that tends to grow fast, but let me tell you: my brows were dead. having been over-plucked with alarming regularity for a period of over ten years. If mine can be revived, yours can too.
The key to making castor oil work is regular application. Every single day or night, put it at the roots of any hair you want to grow faster. The effect is especially noticeable on brows, but it can help thin eyelashes and head hair too. I like to put it on before I sleep to get a full 7-8 hour treatment.
Castor oil is so thick it feels sticky, which can take some getting used to, but the effects are well worth it. You can also put a small amount of castor oil on bare brows to give them a bit of shine and polish while you're out and about. Just don't use too much, or they'll look greasy.
Unlike many hair treatments, castor oil is cheap, natural, and easy to use. Be patient and don't stop applying! Someday, the brow envy will be directed at you.
Quick Tips
What kind to get: Cold-pressed. Oil extraction processes that use heat remove some of the nutrients in oils, making them less effective. And of course, organic is always preferred.
When to apply: Right before bed, while taking a bath, or anytime you have a few spare hours and don't mind a bit of sticky stuff on your face.
Hair mask recipe: If you want to tackle your entire head, this mask will help stimulate hair growth all over.
Ingredients:
Castor oil
Argan oil
Honey
Optional: Egg
Mix equal parts castor oil and argan oil (try two tablespoons each, using more or less depending on hair length and thickness). Stir in one part honey until well mixed, and apply to hair. For extra moisturizing and strengthening benefits, add a raw egg. Argan oil can also be substituted with coconut, jojoba, or another natural oil. For a vegan mask, use avocado instead of honey and egg.
Leave on for at least 30 minutes. If you'd like, you can put on a plastic cap to hold in moisture and help it penetrate while keeping your clothes clean. Rinse your hair, wash it clean, and enjoy the results!