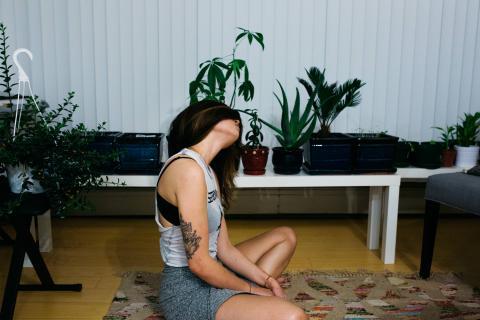 I have a confession to make: I am a 230-hour certified yoga teacher, and yet I still use online yoga videos at home. I know this sounds ridiculous (can't I do yoga on my own?), but there is something so soothing and relaxing about having someone guide you through a practice. Yoga videos have vastly improved since the days of workout tapes and DVDs, and many high-quality videos and sequences are available for very little, if not for free!
If you're tired of your regular at-home routine, or if you're new to yoga entirely, the following online resources are sure to help and grow your practice:
Do Yoga with Me - DoYogaWithMe is a donation-based website with hundreds of high-quality yoga videos for all levels. Beginners will especially love their dedicated beginner section with dozens and dozens of videos. The site also features pose information, meditation and breathing sequences, and yoga tutorials. My favorite part about DoYogaWithMe, though, is their commitment to community with free content. The site is supported entirely from donations, pay-what-you-can programs, and the sale of DVDs and merchandise.
Jasyoga - Erin, the creator of Jasyoga, yearned for a yoga video series or sequence specifically for runners and cyclists, but couldn't find any such thing on the web. Instead, she decided to create her own videos geared toward athletes of endurance sports, and focuses on "hitting reset." As a marathon runner, I love her runner-focused series, and as a busy person, I love her 5 minute reset videos even more. The best part? Access to all video content is a steal for only $4.99/month.
Yoga Download - Yoga Download is an incredibly comprehensive website including videos for all levels and styles of yoga including beginner yoga, kundalini yoga, hatha yoga, power yoga, prenatal yoga, and many, many more. You can search for videos by instructor (there are dozens!), browse yoga music and playlists, and even take teacher training classes. Tons of classes are available for free with additional content and classes available from $10-$18/month or $90/year.
Bad Yogi - If you love the idea of yoga but can't stand the idea of being a "yogi," then Bad Yogi might be for you! This YouTube sensation is founded on the premise that yoga is for everyone and contains hundreds of short yoga sequences, Q&A sessions, pose tutorials, and more. All content is entirely free and completely inspiring!
Yoga with Adrienne - This YouTube channel offers yoga videos for all skill levels, and lets you search videos particular to your mood. Feeling anxious? Sad? Sore? There are videos for all of these and more! Looking to expand your practice? Join the Yoga Camp! All yoga videos on this channel are free.
The next time you're craving a yoga sequence, skip the expensive class and turn to your computer. Thousands of (sometimes free) yoga videos await! Whether you're a yoga newbie, seasoned expert, or adamant anti-yogi, there is a yoga class and a yoga sequence for you - happy stretching!
There is no financial affiliation between Basmati.com, the author, or the brands and products listed above.