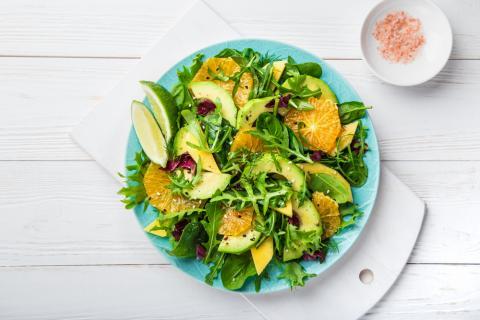 While this salad is amazing any time - especially when avocados are in season - my favorite time to serve this salad is when guests first arrive. It's sort of become a tradition that houseguests receive this rejuvenating and flavorful salad after a long trip. This combination of flavors delights salad and fruit lovers, either served as a main course or side dish. It's easy to prepare, highly nutritious and loaded with vitamins, minerals and plant-based proteins. (A non-vegetarian option adds savory meat).
The key to success for this recipe is using perfectly ripe avocados and mangos – juicy but not too soft. Avoid overripe or dented fruit. Purchase firm fruit that's less likely to have unseen bruises, to ripen at home in fruit bowl or paper bag.  Avocados and mangos are perfect when slightly soft, yielding to gentle pressure, without feeling squishy. The fruit should be juicy but not mushy for best results.
Traveler's Salad
Serves 2 to 4
2 large or 3 small avocados
2 large or 3 small mangos
2 to 4 cups of spinach (slightly chopped or torn by hand, with stems removed)
1 large or 2 small lemons (Meyer lemons best)
2 to 3 tablespoons of chopped walnuts
2 to 3 tablespoons of raisins
Don't just rinse the spinach. Also, wash the avocado, lemon and mango skins, before cutting them and exposing anything on the skin to the pulp inside.
Squeeze the lemons and pour the juice in a large bowl. Place the avocados and (especially) the mangos with a narrow edge on a cutting board; slice approximately 1 inch from the center alongside the seed inside. Using your fingers, peel the skin off the fruit like you would a banana (or scoop out with a spoon). Chop the fruit into bit size pieces and place in the lemon juice. Begin adding spinach, adjusting the amount to make sure there's enough juice to coat everything.
The combined fruit juices create the dressing. Start with less spinach to dress the salad, making sure the spinach is thoroughly coated, but not dripping. Vary the amounts of dry ingredients as necessary. Add fewer walnuts and raisins if there's not enough juice; or add more spinach or walnuts and raisins to sop up excessive juice.
Optional: Thin strips of grilled pork or beef (seasoned with salt and pepper) can be added to the top of the salad before serving as a main course. This adds some savory flavors. Or maybe, add some sliced hard-boiled eggs instead. Be creative adding whatever you like after you've perfected the basic salad.
Enjoy.