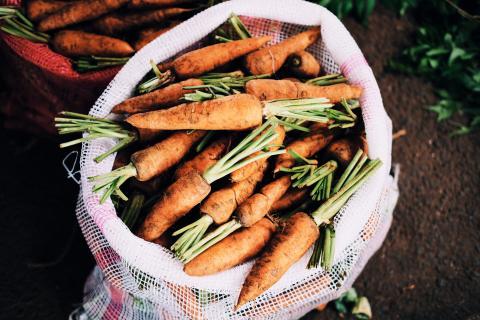 The Roots of Permaculture 
"Although the problems of the world are increasingly complex, the solutions remain embarrassingly simple."
The words of Bill Mollison echo through the decades as the scale of his philosophy continues to expand across the world. The posthumously proclaimed grandfather of permaculture defined a way of thinking that nearly 50 years later is finding its way into every corner of environmentalist sentiment. But who are these permaculturists? Though many of us have heard the term, an actual definition of the practitioners often lacks thorough description. As defined by the Permaculture Research Institute (PRI), started by Bill Mollison in 1979, permaculturists are certified practitioners of the permaculture design principles as set forth by the book Permaculture: A Designer's Manual.
The PRI-certified Permaculture Design Certificate (or PDC—acronyms are still in style, right?) is the credential gained after taking a course teaching these cross-disciplinary sustainable design principles. The PRI's brief course description is as follows: "Permaculture integrates land, resources, people and the environment through mutually beneficial synergies—imitating the no waste, closed loop systems seen in diverse natural systems. This course is held on an active Permaculture Demonstration site." The PDC course teaches these concepts in detail, as well as how to apply this interconnected understanding across the realms of both natural and social sciences.
The Permaculture Design Certificate Course
Courses providing the internationally recognized credential must include a few specific components.  One of those requirements is a minimum of 72 direct contact hours with an established permaculture instructor , which can take anywhere from 12 days to 7 months, depending on the format.  The longer format tends to rely more heavily on self-study while the 12-day format tends to be more rigorous and often includes more than the minimum requirement of 72 hours.  It's not unusual for participants in the 12-day format to stay in or near the host permaculture community.
Another course requirement is the completion of a design project, which tends to take the format of a small group collaboration or an independent design project. Though the application of the design is typically theoretical, access to the plot is necessary to allow for in-depth analysis of the land, including assessing data on elevation, sunlight, soil, micro-climates, interactions with the water cycle, and more.
A variety of subjects are included in the PRI's course outline , such as climactic factors, trees and their energy transactions, earthworking and earth resources, aquaculture, and more.  These subjects discuss many aspects of permaculture, including the greenhouse effect, hydrological cycles, water harvesting, ethical considerations, and more.
The cost of permaculture design courses varies pretty significantly based on duration, location, and accommodations provided, but the price typically ranges from $1000 to $2000 with certain programs offering early bird registration discounts, discounts to locals, and occasionally even scholarships. In episode 1223 of the permaculturepodcast, Scott Mann, the podcast's creator, explains that the less expensive courses are usually long-term courses where the students commute to the location, whereas the more costly courses tend to be the on-site, intensive courses (usually about 2 weeks), with a premium for exotic locations.
What can you do with the Permaculture Design Certificate?
Permaculture is a growing grassroots community and being able to add the permaculture design certification to your resume is a boon of increasing significance. Even those who are not active permaculturists (or permis as they are sometimes knows) often recognize the significance of this credential. There are also am increasing number of career options in academia and design consultation specifically for permaculture-certified individuals.
The Permaculture Design Certification gives you a set of organizational tools, design strategies, and philosophies that you can carry with you into any line of work. The principles learned in a permaculture design course can be applied directly to improving efficiency and balance both in a professional/business context, and also from a personal vantage point. The course provides a grounding frame of reference that can make you a valuable resource in any organization for maintaining vision and context.
While there are a multitude of educational resources that one can use to start or continue an education in permaculture, the certification course provides hands on, in-context instruction. To be in place, and learn from it, and how it perfectly explains its own context and its connection to the world around it is a profound thing. You are essentially learning another layer of awareness; like gaining a new sense, you learn how to observe the texture and tones of the natural world. The power of existing within and learning from a community that reverently promotes the significance of interconnectivity is something that holds value far beyond the certification alone.