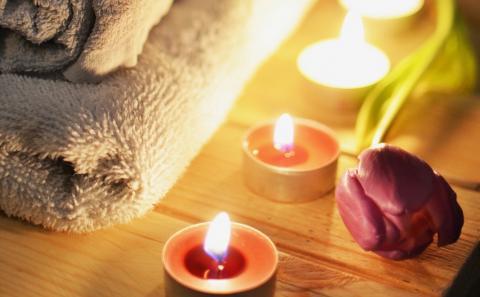 Need one night to unwind? Try hosting your own DIY spa night: You can invite a bunch of your friends over, or just keep it a solo party. Either way, you're bound to have fun and get pampered!
Chocolate Avocado Facial Mask
This mask is great for all skin types, especially dry, maturing, and sun damaged skin. This mask is completely edible and tastes like chocolate pudding – so no worries if some gets in your mouth!
Ingredients
1/4 avocado
1 teaspoon raw, unrefined cacao powder
1 teaspoon granulated sugar
Directions
Scoop the avocado out of its shell, discard (compost) the seed, and place flesh into mixing bowl. Mash until smooth.
Add the cacao and sugar, blending the powders into the avocado to create a uniform paste.
Spread a thick layer of the mask onto clean skin. Leave on 10 to 20 minutes; wipe off using a warm facial cloth. After the mask is removed, splash your face with warm water to remove any trace of the mask.
Sugar Foot Scrub
Nothing beats a nice relaxing foot scrub: This recipe is simple and can be whipped together in less than 5 minutes. It's great for getting rid of dead skin cells or smoothing out rough skin on your heels.
Ingredients 
1-2 cups sugar (or Epsom salt)
1/2 cup warmed coconut oil (or grapeseed/olive oil)
10-15 drops essential oil (peppermint, lavender, or grapefruit work well)
Directions
Mix the ingredients together and pour into a pretty jar. You can decorate the jar if you want to, but be sure to label it so you don't forget what it is.
To use, just scrub some onto your foot over a tub (as it could get a little messy). When you're done, wipe it off using a towel, or run your feet under some warm water, then wipe.
Moisturizing Foot Balm
After a foot scrub, a foot balm works wonders. This recipe makes a perfect followup to the foot scrub recipe above. It moisturizes your feet when you rub it in and gives you the excuse to massage your feet (which always feels nice after a long day).
Ingredients
1/4 cup shea butter
2 tablespoons olive oil
2 tablespoons coconut oil (can substitute with grapeseed or avocado oil)
1/2 ounce piece of beeswax (grated)
10 drops vanilla essential oil
10 drops peppermint essential oil
Directions
Combine all ingredients in a saucepan over very low heat and then stir until melted.
Remove from heat and stir to better combine the ingredients.
Add in the essential oils at this point and mix. Once it's mixed well, pour the mixture into a clean 4-ounce mason jar.
To use, just massage a small amount into your feet. Have slippers handy so that you don't have to touch the floor with your moisturized feet afterwards.
Cucumber Facial Toner
A facial toner refreshes your face and leaves it feeling vibrant. Just a few spritzes of facial toner will leave you feeling calmer and looking more radiant. This specific facial toner is great for any skin type and instantly replenishes skin.
Ingredients
1 green tea bag
1/2 cup aloe vera gel
1/2 cucumber (cut up)
1/2 cup hot water  
Directions
Steep the tea bag in 1/2 cup of hot water for 5 minutes, and then let the water cool down. If you're using a fresh aloe leaf, cut the leaf open and gently scrape the gel from it. Then, process it in the blender before mixing it into the other ingredients.
Mix tea, cucumber slices, and aloe vera gel together in a bowl. Once it's combined, pour it into a spray bottle to create a refreshing facial toner. Spritz onto face as desired.
Tea Bag Eye Soothers
When you're stressed, it could show up in the form of redness or puffiness under the eyes. This DIY eye soother is very simple and will help reduce any redness or puffiness you might be experiencing. Plus, you probably already have what you need for it in your home.
Ingredients
Two chamomile, green, or black tea bags
Note: Chamomile tea is a natural anti-inflammatory so it will help reduce redness and puffiness. Green and black teas contain caffeine and tannins (which have an astringent effect on the skin): This helps them shrink swollen tissue and reduce swelling.
Directions
First, choose what sort of tea bags you'll be using for this DIY (chamomile, green, or black). Then, steep two of your chosen tea bags (chamomile, green, or black) in just-boiled water for three minutes. You can choose to drink the tea they make or dump it out: The tea bags are what you want.
Remove the tea bags from the water and place them on a small dish. Put them in the fridge until they're cooled, then take them out again. Place one bag over each eye and relax for 15 minutes. When you're done, compost the tea bags (assuming they're not made out of plastic).
How to create the perfect DIY spa night environment
While you're pampering yourself with these DIY spa night treats, you have to set the right mood. In order to create a relaxing atmosphere that lets you enjoy yourself and unwind, here are a few ideas to try:
Put on some soothing music: Classical piano music or violins work nicely, but you can improvise to see what works best for you. What sounds make you relax?
Dim the lights & light a few candles: Harsh fluorescent lighting will not make you relax, but candle light definitely will.
Light some incense: Aromatherapy is powerful—some nice, relaxing incense scents include vanilla, lavender, rose, and chamomile.  
Kick everyone out of the house: Make this about you time—choose to do this at a time when no one is going to be around, or find a way to get everyone out of the house for a few hours.
Change into comfy clothes: You can't feel relaxed in work clothes—wear something loose like a bathrobe or pajamas.
If you want to, you can also turn DIY spa night into a friends' night. Just make sure you keep it a relaxing atmosphere by following a few of the suggestions above. You should have all the DIY products ready to go if you're inviting friends over (so you don't have to stress over making them while your friends are there).