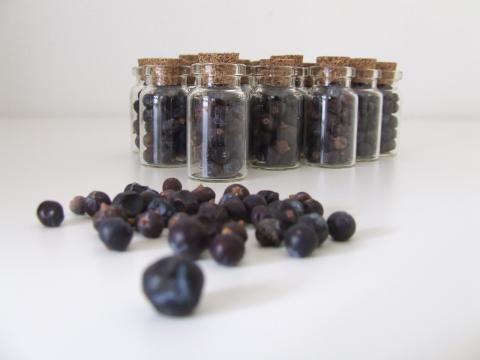 When you think of berries, you probably imagine plump blueberries or succulent strawberries picked at the peak of perfection. It is not often that juniper berries, which are not truly berries at all, come to mind. These antioxidant-rich, heart-healthy "berries" are actually a bitter spice originating from the female seed cones that come from juniper plants, a type of conifer, which is a cone-bearing shrub or tree. There is no wonder why then juniper berries are used as a garnish for your favorite gin cocktail with that piney aroma and distinct taste. Alcoholic beverages aside, whether you are exploring the health benefits of essential oils or just want to know more about this uncommon spice that may or may not be in your spice cabinet, then keep reading.
What Are Juniper Berries?
Traditionally, juniper berries have been used to detoxify the body, promoting healthy digestion and vivacious skin, among other things. One of the major uses of these berries is in the form of an essential oil. Known in folk medicine and through some more recent research, juniper berries are believed to be a natural antiseptic and antioxidant. Bought in health food stores, yoga studios, and where other herbal remedies are sold, the juniper berry produces a very therapeutic oil.
In the kitchen, juniper berries are not used nor consumed like traditional berries, and because of this there isn't a lot of information on the caloric or vitamin content of them. However, be advised, just a little of the spice ground in a spice mill can pack quite the punch to any dish.
Only recently have scientists taken a look at the natural health benefits of this often overlooked spice. This is great news. A berry that has been around since the time of the Greeks and Romans now has a place in our repertoire of herbs and spices and will not only enhance the flavor of our dishes but add a welcomed addition to our health and wellbeing.
In addition to helping to remove waste and acidic toxins from the body, these are other benefits juniper berries can provide.[ii]
1. Rich in Antioxidants & Helps Prevents the Onset of Certain Types of Diseases
Consuming foods rich in antioxidants like juniper berries aid your body in preventing and warding off disease.  Antioxidants help to relieve oxidative stress triggered by an abundance of free radicals present in your system.
2. Improves Kidney Function
It's common today that contemporary herbalists will suggest using juniper as a diuretic intended to treat bladder infection. The presence of volatile oils such as terpinen-4-ol in juniper berries increases the speed of filtration in the kidneys. This promotes an increase of urine, helping to clear out any offending bacteria causing an infection.
3. Increases Digestive Fluids
In the same way, consuming juniper berries attributes to an increase of digestive liquids that help improve metabolism, gas elimination, and stomach cramps. As a diuretic, juniper berries help decrease water retention and can be attributed to additional weight loss.
4. Combats Bacteria
German research published in 2010 in the international peer-reviewed journal Natural Products Communications evaluated the chemical composition of several essential oils, including oil from juniper berries. These oils were tested against a variety of strains of bacteria, including samples of rotten food, food-poisoning-related bacteria, and both animal- and plant-based pathogens. It was proven that the use of juniper oil inhibited the bacteria's growth and spread, proving it a potential tool for fighting bacteria.[iii]
5. Excellent Antiseptic with Antifungal Properties
In the past, during times of war, juniper berry oil was used to treat injuries from battle, helping to protect wounds from becoming septic or soldiers from developing tetanus. The essential oil today can still be used for the common scrape or cut.[iv]
6. Promotes Peaceful Sleep
Get a better night's sleep with juniper berry oil.  Research conducted by Mie University Graduate School of Medicine in Japan examined the effects of a healing fragrance, including juniper berry essential oil in addition to sandalwood, rose, and orris, on insomniacs that were taking medication for the disorder. It was reported that 26 of the 29 participants decreased their medication because of the use of the essential oils during the night. A remarkable 12 people in the end discontinued the use of medication entirely.[v]
Here is a spice blend that incorporates juniper berries in a well-balanced proportion that can be whipped up quickly in a large quantity and stored in your spice cabinet for general use.
Mediterranean Spice Blend
Ingredients:
2 tablespoons pink Himalayan sea salt
1 tablespoon fennel seed
1 teaspoon whole black peppercorns
1 teaspoon whole white peppercorns
1 teaspoon dried oregano
1/2 teaspoon dried thyme
1/2 teaspoon yellow curry powder
1/2 tablespoon juniper berries
1/4 teaspoon yellow mustard powder
1/4 teaspoon laurier
1/4 teaspoon smoked Spanish paprika
 Directions:
In a coffee grinder or spice mill combine all ingredients and grind until a fine powder is created.
What Is This Spice Blend Used For?
This spice blend can be used in many dishes, from roasting meats and vegetables to making risotto. The following recipe for roasted eggplant is an excellent appetizer or side dish for everyday use or the special occasion.
Roasted Eggplant with Aged Manchego
2 graffiti, globe or Italian eggplant
sea salt
olive oil
Mediterranean spice blend (see above)
aged Manchego cheese, sliced thin
Directions:
1. Preheat oven to 400⁰F. Prepare a baking sheet with parchment paper.
2. Slice eggplant 1/2-inch thick and place on the baking sheet. Sprinkle with a pinch of sea salt on each round and let stand for 30 minutes, or until big beads of sweat form.
3. Using a paper towel, bat the eggplant dry. Sprinkle the Mediterranean spice blend over each eggplant round. The amount of spice will be determined by your taste. Drizzle a light amount of olive oil over the eggplant.
4. Roast in the oven for 40-45 minutes, or until soft and tender and slightly browned. 
5. Remove from the oven and place slices of aged Manchego cheese over each round of eggplant. Place back in the oven until the cheese has melted and is slightly bubbly. Serve warm out of the oven.
02 Sept 2017. 9 Health Benefits of Juniper Berries. Dr. Axe: Food is Medicine. https://draxe.com/juniper-berries/
Barron, Jon. Juniper. Baseline of Health Foundation. https://jonbarron.org/herbal-library/herbs/juniper
Whitman, Sarach, 03 Oct 2017. Juniper Berries and Health Benefits. Livestrong.com. https://www.livestrong.com/article/539975-the-toxicity-of-juniper-berries/
Barron, Jon. Juniper. Baseline of Health Foundation. https://jonbarron.org/herbal-library/herbs/juniper
02 Sept 2017. 9 Health Benefits of Juniper Berries. Dr. Axe: Food is Medicine. https://draxe.com/juniper-berries/