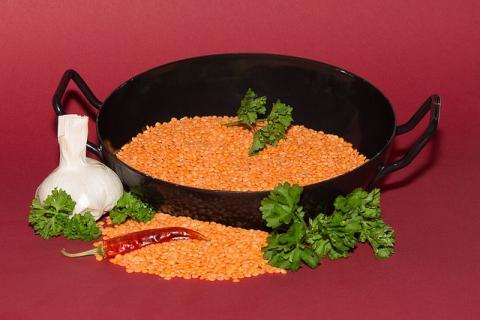 It's been raining nonstop the past two days, which is good because we need it. However, the productivity level on days like these is hard to maintain. It's difficult not to curl up with a good book or binge watch movies all day. When I get that urge, I give myself a break and head to the kitchen.
Craving something comforting, warm, and tasty –  it's days like these that some of the best meals are born. And on this raining day, in particular, I was craving a comforting, pungent dish. That's when I got the idea to use up some of our red lentils and whip up an easy, vegan red curry.
Red curry has a wonderfully pungent flavor. The popular Thai paste is typically made of garlic, lemongrass, Kaffir lime, shrimp paste, galangal, shallots, salt, and of course, red chilies. It's often added to coconut milk which imparts a nice contrast of cool and spicy. Really though, you can get creative and add it to just about anything. 
You can make your own red thai curry paste at home, or opt for store bought. For the sake of this recipe (and my grumbling stomach), I used store bought. I recommend going to a specialty Asian market if possible, or searching for the paste in the ethnic food section of your local grocer. (Remember to look for vegan red curry paste if you prefer it without shrimp.)
Whether you choose homemade or store bought, one thing is for certain: your rainy day will brighten up with the wonderful flavors of Thai.
Servings: 4
Time: 45 minutes
INGREDIENTS
1 cup red lentils
2 ¼ cups water or vegetable broth
1 can full fat coconut milk
3 carrots, diced
1 small yellow onion, diced
1 can tomatoes
2 tbsp coconut oil
3 tbsp Thai red curry paste
2 garlic cloves, minced
1 tsp ginger, grated
1 tsp turmeric
2 pinches pink Himalayan sea salt
rice or flatbread (optional)
In a medium sized saucepan, heat coconut oil on medium heat. Add turmeric and cook for 30 seconds. Add the carrots and onions, and cook until well coated with turmeric, about 2-3 minutes. Add garlic and ginger, and cook for about 30 seconds.
Next, add red curry paste and cook until fragrant. Stir in tomatoes, coconut milk, water or broth, salt, and red lentils. Bring to a boil, then simmer for 30-35 minutes. Serve warm with rice or flatbread.