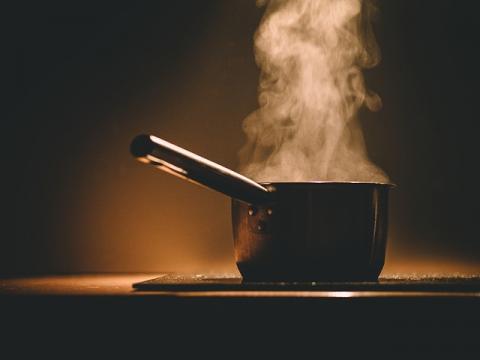 Drive away any winter woes with a bowlful of healthy and nourishing goat trotter soup, made as a traditional Indian recipe…
There's a myth about living an Ayurvedic lifestyle that in order to live pure, you must follow the sattvik diet –  aka vegetarianism and eating only that which is above the ground. In Ayurveda, the tamasic diet (non-vegetarian and eating that which also grows under the ground and has strong, pungent flavors) has its own value too – for the mind, body and soul.
Ayurveda believes that if you have killed an animal to be consumed as food no part of it should go waste – for that means you are being ungrateful to the soul who has just sacrificed itself for you. So if you like your red meat and have had your fill of goat stew, why waste the trotters?
Why is it healthy?
In Ayurveda, goat meat is actually considered just right – as it's neither too heavy nor too light –  and can be consumed in all seasons, since it's so nourishing and doesn't aggravate or imbalance any dosha. One of the healthiest parts of a goat you can consume is the trotters (or feet)  – which are boiled and simmered into a liquid broth for any duration between 2 to 10 hours. The bones are discarded and the bone broth that remains is healthy and nourishing enough to be considered both medicine and food. A few benefits:
Eradicate cold, cough and chest infections: When you boil bones into a broth, you get the nutritive benefits of both cartilage and marrow which in turn strengthen the body and help it fight off infections.
Give you great skin: Trotter soup (or even bone broth) is a great source of collagen and hyaluronic acid – and when you take in these in the form of broth, you help your skin heal faster and age slower.
Prevent or treat mineral deficiencies: When you boil bones, they become soft for all the calcium and other minerals such as phosphorus, magnesium, sulfur, fluoride and potassium have now leached into the broth. Ergo, when you drink the broth, you drink in the goodness of those minerals.
Keep you calm and well equipped with sleep: Mineral deficiencies can often lead to anxiety, irritability and brain fog, as well as insomnia – trotter soup can help you up those depleted levels and improve the digestion as well – making you happier and more restful.
Be nice to your heart, and bones: Bone soup is a natural source of an anti-inflammatory supplement, chondroitin sulfate, which helps to lessen joint pain and improves blood circulation. It also helps control cholesterol levels and prevents blood clots and subsequent strokes.
Trotter Soup Recipe
To make the traditional Indian goat trotter soup (called paya soup), you'll need
5-6 goat trotters (you'll get these at your butcher shop with the skin burnt off and cleaned, split into smaller pieces)
2 tsp crushed or grated ginger
2 tsp crushed or grated garlic
1 thinly sliced onion
Herbs or spices of your choice (in this recipe we'll use 2 leaves of all spice, a few crushed peppercorns and cloves, 3 crushed cardamom and a pinch of asafetida)
Salt and pepper to taste
To make the soup:
Wash the trotters well in warm water.
In a pressure cooker or a stock pot, add a dollop of ghee and sauté the onions till translucent. Drop in the trotters and add in enough water to completely cover them.
Add in the garlic, ginger and your choice of herbs and spices – and salt and pepper to taste.
If using a stock pot, let the broth boil on high and simmer for the next 2-3 hours. Keep adding water in between to keep the broth level above the trotters.
If using a pressure cooker – cook for 6-7 whistles and then simmer for another 20 minutes before turning off the heat.
Let the broth cool a bit – discard the bones but retain any leftover skin/marrow – scoop out any visible condiments and serve piping hot with a dash of hot sauce.
We hope you enjoy your fragrant and heart-warming bowlful of soup. Happy health!