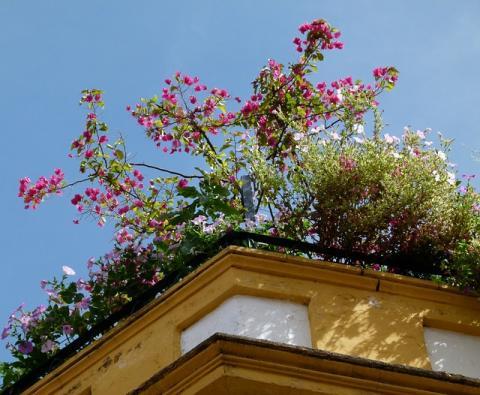 It's not easy to combine one's gifts and passion for agriculture with a need for housing and a salary in an urban environment. Farmer-in-Residence Zaro Bates has been lucky enough to do just that in the courtyard of a Staten Island apartment complex, known as Urby. Bates runs this 4,500-square foot organic city farm and the business Empress Green Inc. with her husband and co-worker/beekeeper, Asher Landes. Modern Farmer explains that Bates attended the College of Agriculture and Life Sciences at Cornell University where she studied development sociology and "looked at all of the implications of our global society moving away from being agricultural based toward development of more urban centers." After college, she and Landes traveled the world exploring diverse farms before embarking on this farming adventure at Urby. Bates also apprenticed at the well-established, large-scale, and successful urban farm, Brooklyn Grange. The original job listing for Bates' position also included composting and landscaping as part of the responsibilities and offered a modest salary (~$15,000 to $20,000) but included a free apartment, which in NYC, is a huge plus.
Bates applied all of these experiences to the development and ongoing evolution of the street-level Urby farm. Urby is a waterfront apartment complex on the north shore of Staten Island that holds 900 units and is run by Ironstate Development of New Jersey. The Urby site lists an urban garden, farmer-in-residence, and community kitchen among its many offerings to residents. Frank Raffaele of the cafe chain Coffeed from Queens has helped with the farm development and described the plan to the New York Post in this way: "[a] farm as a selling point, an amenity, like a gym — that's what this is."
The farm is built on a green roof over the cement-covered underground parking garage. Two feet of soil and raised beds hold the farm which now produces thousands of pounds of produce. Bates told Staten Island Live that natural practices, such as the introduction of natural predators like ladybugs, has been a big focus for the farm as they work to avoid inorganic pesticides and fertilizers. The same article explains that this efficient micro-farm produces many diverse types of foods such as kale, arugula, tomatoes, eggplants, and more.
Where does all this produce go? It travels to many good homes: into a farm stand held weekly, to a local food bank through donations, to restaurant menus, and into a veggie pick-up bundle, which the Modern Farmer article explains is similar to a low-commitment CSA, without the pre-arranged seasonal subscription. Zaro Bates also offers sustainability consulting services through Empress Green and teaches gardening workshops. The Urby communal kitchen opens to all on Saturdays for cooking demonstrations, socialization, and shopping at the farm stand. A Coffeed Café is now open at Urby-Staten Island and in September they held the first annual Bee Gala there. This was a bee-themed event wherein local food, wine, beer, beekeepers, artists, music, and bee lovers came together to celebrate bees and urban farming, in bee and honey themed apparel. You can keep up with all of the organic, educational, nutritious, and fun offerings and activities at Urby on their Facebook page and on Instagram and Twitter @UrbyLife.