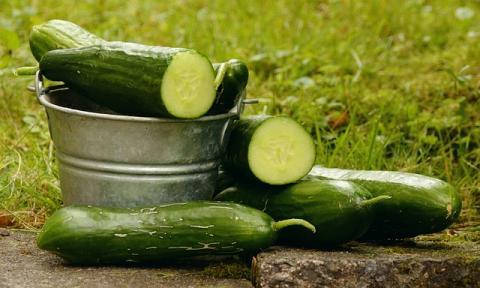 Even though summer has come to an end, farmer's markets across the country are still stocked with this season's bounty of tomatoes, cucumbers and fresh herbs like parsley. This cucumber and garbanzo bean salad is the perfect end-of-summer dish, as it combines all of these farm-fresh ingredients into a healthy, tasty treat.
Because this recipe is so quick to make, it can easily be made for lunch before work or as an easy mid-week addition to dinner, especially if you get home later in the evenings. While this recipe calls for cherry tomatoes, any tomato will work as long as you make sure to take out the seeds and extra tomato juices that could water down the salad. It can also be made vegan by omitting the crumbled feta cheese from the dish.
Cucumber & Garbanzo Bean Salad
3 pickling cucumbers (or Kirby cucumbers)
1 (15 ounce) can garbanzo beans, rinsed and drained
10 cherry tomatoes, halved
1/2 red onion, chopped
1 (6 ounce) jar of Kalamata olives, drained and chopped
2 garlic cloves, minced
1 ounce crumbled feta cheese
1 bunch of parsley, chopped
4 tablespoons olive oil
2 tablespoons red wine vinegar
Salt & pepper (to taste)
Peel cucumbers and cut into quarters. Then, slice into 1/4-inch pieces.
Combine cucumbers, garbanzo beans, cherry tomatoes, onions, olives and garlic into a bowl.
Add oil, red wine vinegar, and salt and pepper to taste. Mix thoroughly, and let sit for 15 minutes.
Mix in chopped parsley and feta cheese before serving.