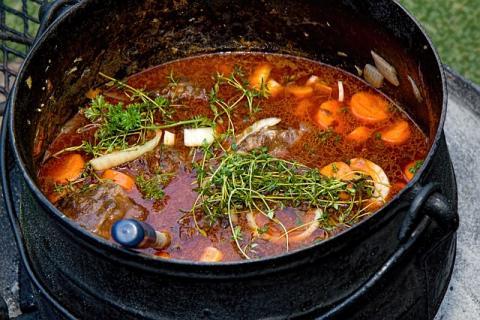 Time for some hearty vegetable soup! Its thick and creamy consistency provides a comforting antidote to those first chilly days as we move into fall. Simple and easy, you only need one pot to cook enough soup for the whole family and you can even make the most of extra veggies or herbs that you have laying around the house! The  wonderful mix of both richly developed and subtle flavors is what sets this dish apart.
*Serves 4
Ingredients
2 Large Carrots
1 Celery Stalk
1 Small Onion
1 Medium Zucchini
½ cup Mushrooms
2 cloves of Garlic
1 Tablespoon Olive Oil (for cooking)
1 (32-ounce) container of Vegetable Broth
Black Pepper (to taste)
1 cup of Unsweetened Almond Milk (or other non-dairy milk)
3 Tablespoons Corn Starch
Directions:
-Start by putting the olive oil in the bottom of the pot over medium heat. While the pot is heating, chop the carrots, celery, onion, zucchini, garlic and mushrooms.
-Put all of the chopped vegetables in the pot and sauté them for about 3 minutes before adding the vegetable broth and black pepper. Allow to simmer on low heat for 5 minutes.
-Stirring constantly, add in the almond milk and corn starch. You can use a whisk or a large fork, but be sure to mix well so the corn starch is fully combined. 
-Cover the pot and allow to continue simmering on low heat for 5-10 more minutes, checking often. Add more almond milk or corn starch as needed until the soup has a thick and creamy consistency.
-Remove from heat and allow to cool.