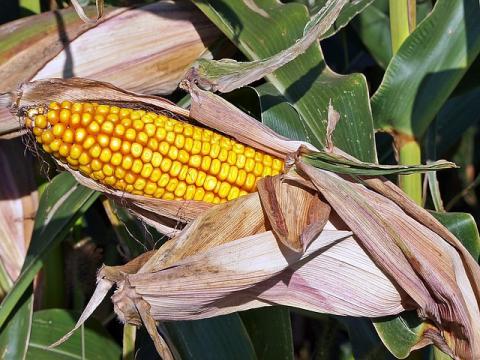 Gathering with friends for some backyard grilling is a favorite summer activity. The smell of food roasting with a refreshing beverage in hand – what's not to love?! While everyone has their favorites that just taste better on the BBQ, it is almost always guaranteed there will be a few ears of corn roasting.
This grilled corn salsa recipe spices things up a bit, and takes the cob from ordinary to spectacular. As a topping or side, this grilled corn salsa recipe is a crowd-pleaser.  Corn, cilantro, and green onion offer up a tasty alternative to traditional tomato-based salsa.
And the best part is, the ingredients are all in season!
Time: 50 minutes (Active time: 10 minutes)
Servings: 4
INGREDIENTS
4 ears grilled corn
1 bunch grilled green onion
½ cup cilantro
1 jalapeno, seeds removed
2 limes
Olive oil, dash
Salt, to taste
Heat up grill to 400 degrees Fahrenheit. Keeping husk intact, remove the silk from corn. Cover the corn with the husk, then trim the excess husk and silk off the top. This will prevent the top from burning while the husks keeps the corn from drying out. Cook on grill for 30 minutes, rotating as needed. Let cool.
Remove corn from cob and chop the green onion. Add to a small-medium sized bowl. Chop cilantro and jalapeno, and add to corn mixture. Squeeze in lime and add salt to taste. Let rest at room temperature for 15-30 minutes before serving.