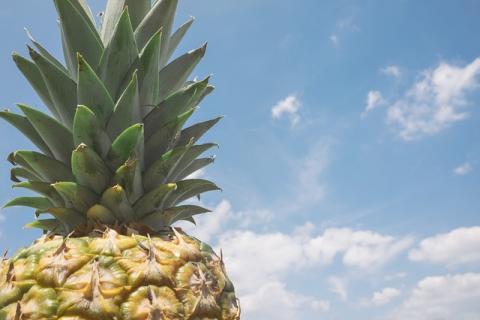 Summer is upon us! And that means a bounty of fresh fruits and vegetables. Produce not only tastes best when in season, but it is another way to eat sustainably. Right now, pineapple and cucumber are ripe. The sweetness of the pineapple mixed with the cooling effects of cucumber will help you beat the heat.
The addition of black beans – filled with protein and fiber -- will keep you full. The great thing about dry beans is that after harvesting, they can be stored for years -- now how's that for shelf life?! I prefer to use dry beans, but canned works just as well. This salad is not only refreshing, but it is also packed with protein!
While seasonal produce may vary according to region, this is a general guide.
PINEAPPLE-CUCUMBER SALAD
2 1/2 cups Fresh Pineapple, cubed
2 Cucumber, skin removed
1/2 cup Red Onion
1/2 cup Dry Black Beans or 15oz Canned Black Beans
1 teaspoons Paprika
2 teaspoons Cumin
2 Limes
2 teaspoons Honey (agave as substitute)
Handful of fresh herbs, I use Cilantro (optional)
Salt and pepper 
For Dry Beans: Soak the dried beans in water for 6 hours. Drain and rinse. Bring roughly 3 cups water to a boil. Add beans and simmer for 1 1/2 hours. Discard excess water and cool to room temperature.
For Canned Beans: Drain and rinse. Pat dry with paper towel.
In small bowl, whisk paprika, cumin, salt, pepper, lime, and honey to make dressing. In a large bowl combine pineapple, cucumber, onion, black beans, and herbs. Mix in dressing. Add salt and pepper to taste. Serve at room temperature.
Enjoy!