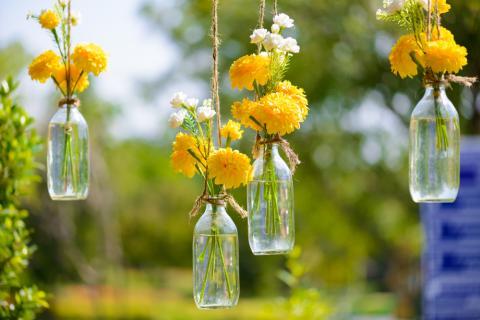 Summer is a time of gathering, sharing, and basking in the glow of summer light with friends. No matter where you may be, a fresh meal enjoyed outdoors is the epitome of the season, and given the long evening hours, a dinner party ticks all the boxes!
Hosting can be expensive, though. From purchasing the food/meal items to keeping beverages cold and refreshing, pulling together a dinner party that actually feels like a dinner party can be anxiety-inducing, especially if you're gathering—and feeding—a crowd.
Though the food is the star of the show, the aesthetic of any dinner party sets the tone. As one who generally works within a tight budget, getting creative with what I have (or, what I could reuse later) has become a specialty of mine. Here are some ideas for creating and decorating your own dinner party on a budget, either buying secondhand décor items for a reasonable cost or repurposing what is already in the home if you're up for being extra creative…
1. Sheet/Blanket turned Tablecloth
You may have an extra one of these tucked in a drawer or closet at home, but if you don't, scoot on down to your local thrift store and pick one up for a couple bucks. A flat sheet is perfect for any makeshift table, or a thin blanket that can be used again as a throw on a couch can work too. If you're a purist, go for a white or neutral color; if you want to embrace the summer vibe, reach for a floral sheet…and then use it as a paint drop cloth or for some other project.
2. Canning Jars turned Candlestick Holders
Maybe you have an old salsa or peanut butter jar, even? Nobody will know! Scrub off the label and fill a jar with sand, stones, marbles, or glass beads. Whatever material fills the jar should be able to support a candlestick when stuck into the filler. (I have even heard of some people who use kitty litter for this!)
If you're less of the candle stick person, and more of the candle pillar sort, find a pretty little tea saucer or dessert plate to place a few candles to catch the wax drips.
A mason or canning jar can easily be reused for something like this, too!
3. Cutting Board turned Serving "Tray"
If you don't have a cutting board, definitely go get one! A secondhand store is an easy place to find one, as long as you're sure to wash it well with dish soap after bringing it home. Wood is nice, but can hold flavor a bit more than a plastic one. If you're at the thrift shop, there are also generally loads of serving trays/platters/dishes waiting for a second chance at dinner party glory. A cutting board is bound to be useful in future cases, though, like for a big, juicy watermelon!
4. Glass Bottle/Vessel turned Flower Vase
Pick a bottle, any bottle! A juice/wine/sparking whatever bottle, a milk jug, even a taller salsa or tomato sauce jar will work well. If you're bothered by the label on the bottle or vessel, scrub it off. If you feel it adds to the aesthetic, leave it! A wine bottle certainly adds character to the table and can be fodder for conversation. And, it can also be up-cycled for the dinner table, and then recycled!
If you're at the secondhand shop for other dinner party décor items, a pitcher (which may be used as such or as a vase) or other interesting vessel may catch your eye for a vase, but there are always plenty of vases there, too!
Or, if you have a potted plant in the house already, just pop that on the table for some quick and simple décor!
5. Corks/Stones/Shells turned Name Markers
Perhaps you save corks like me for who knows what, but if you don't, collect a handful of items from Mother Nature's backyard. A thoughtfully chosen rock, shell, or other free item can make your guests feel cherished as such. Stick a labeled piece of paper into a pinecone or, without a name indication, simply tuck a flower into a napkin.
If you're over at the thrift store, peruse the craft section for other clever ideas that may be hidden in the shelves. Choosing a unique fork for each person could serve both as a "favor" of sorts, and a paper name marker can easily be slipped in the tines for dual purpose.
BONUS: Themed, Curious Books
The one thing that will always be sure is that you can find some interesting books at any secondhand store. If your party has a theme, collect books that may reflect it: gardening or nature books, health or recipe books, old or antique books, or novels with racy titles, etc. Make it fun, and offer your guests some interesting opportunities for conversation!