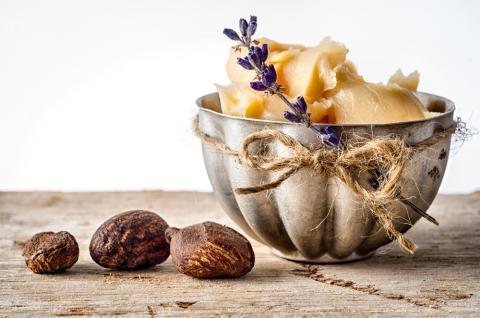 Dry, itchy skin? You might need more than a body lotion: Try using a body butter instead. Body butters are typically made from just oils and butters. They work to create a barrier on the skin that seals in moisture and provides lubrication. If the cold weather is getting to you, a body butter may be exactly what you need.
Why Make Your Own Body Butter?
Did you know most conventional body butters, lotions, and creams contain a number of toxic ingredients? Sadly, the beauty industry is very loosely regulated by the FDA and brands can put practically any ingredient into their products. Even so-called natural brands can have questionable ingredients in their products. That's why it's super important to read the labels and access everything.  
To give you an idea of what I'm talking about, here's a list of ingredients in a popular brand of body butter: 
Aqua (water, eau), helianthus annuus (sunflower) seed oil, glycerin, cocos nucifera (coconut) oil, cetyl alcohol, prunus amygdalus dulcis (sweet almond) oil, parfum (fragrance)*, sucrose stearate, mel (honey, miel), butyrospermum parkii (shea) butter, simmondsia chinensis (jojoba) butter, theobroma cacao (cocoa) seed butter, tocopherol, lactic acid, magnesium aluminum silicate, sodium stearoyl lactylate, glyceryl laurate, sucrose polystearate, glycine soja (soybean) oil, xanthan gum, phenoxyethanol, geraniol, coumarin 
Seems pretty natural, right? Here's the catch: This company uses botanical names to make the ingredients sound natural, but a few of them are far from it. For starters, fragrance is a bad ingredient to see, especially when there's no indication of what it's made of. It could be made from synthetic fragrances that can cause allergic reactions. There's also soybean oil, which is highly processed and refined. The rest of the ingredients are rated between 1-3 according to the Environmental Working Group (EWG). This is on a scale of 1-10, with 1 being the lowest toxicity and 10 being the highest. So while the ingredients in total are not absolutely terrible, there are some things to take into consideration. That said, none of the ingredients are indicated to be organic, fair trade, or GMO-free. So how high quality are these ingredients, natural or not? 
This is a big reason why I suggest making your own body butter (or beauty products in general!). When you are the only one creating the product, you get full power over everything that goes into it. There's no having to worry about mysterious fragrances that may or may not make you sneeze like crazy or possible toxins. Plus, you wind up saving money in the long run. Instead of buying a 6.5-ounce jar of body butter for $13, you can make a 12-ounce jar for less than half that price.
Naturally Smooth Body Butter Recipe 
This particular body butter recipe is super rich and creamy without being too oily. It's perfect for when your skin needs a little extra help sealing in moisture during the cold months. It also makes a fantastic gift!  
Ingredients
1/2 cup shea butter 
1/2 cup cocoa butter (can substitute mango butter) 
1/2 cup coconut oil 
10-30 drops essential oils, optional (peppermint, lavender, or citrus all work well) 
1/2 cup almond oil (can substitue jojoba or olive oil) 
Directions 
In a double boiler or glass bowl, combine all the ingredients together (except for the essential oils). Bring to medium heat and stir constantly until ingredients are melted, then remove from heat.  
Let mixture cool slightly and then add the essential oils. You can combine a mix of different essential oils or choose just one, depending on what scent you're going for. Make sure to mix it all up using a spoon. 
Move the mixture to the fridge and let it cool for 1 hour or until it starts to harden but is still somewhat soft. 
Using a hand mixer, whip for 10 minutes until it's nice and fluffy.
Return it to the fridge for 10 to 15 minutes. This will help set it. 
When the time is up, store it in a glass jar with a lid and use as you would a regular body butter. Just apply it anywhere on your body you need it most. If your home is above 75 degrees, be forewarned you might have to keep it in the fridge to prevent it from softening. (It should stay whipped at temperatures lower than that.)