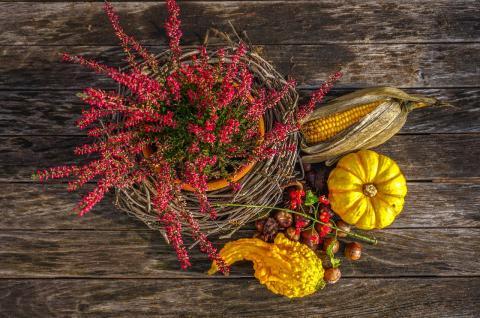 When Thanksgiving rolls around, how do you like to decorate? Some people love to reuse the same decorations every year, but others like to buy completely new ones. Either way, most people don't really think in terms of sustainability when this holiday rolls around. Understandably, they're probably too busy making big entrees or just stressing over hosting the Thanksgiving feast this year. But it's important to think about sustainability, especially when the holidays are usually anything but. So much waste is generated during this time of year, and that includes wasted décor. Before you impulse buy that cute Thanksgiving-themed disposable napkin set, think about things in the long run. Ask yourself a very important question: Where will this object end up after Thanksgiving is over? If the answer is "in the trash," or ambiguous in any way, you might want to reconsider getting it. Instead, invest in these 7 eco-friendly Thanksgiving decorations. These are all decor pieces you can have fun creating, and all of them are reusable. The best part is most of these decorations can go out as soon as fall arrives, and not just for Thanksgiving.
Want to make a really beautiful work of art? Try taking an old canvas, piece of wood, or poster board and paint the background any color you like. Painting it isn't necessary—it just works well if you're aiming for a certain look. Then, glue on some fall leaves from your yard, in any pattern you see fit. This creates simple but beautiful fall-inspired artwork. Hang it on any wall you'd like and make sure to reuse it every fall from here on out!
Who doesn't love mason jars? They're so versatile and can be used for storing food, as well as creating beautiful decor. Try making a fall leaf mason jar candle out of any empty glass jar you have lying around. All you have to do is use a little Mod Podge and stick some fall leaves onto the glass jar. Then, place any candle you like into the jar. You can make as many of these as you want and place them all over your home: They're sure to stun your guests.
Don't throw out your wine bottles: Instead, stuff them with a strand of twinkle lights and light them up when your guests arrive. It's super simple, doesn't cost much, and looks amazing. The coolest part about this DIY is that you can use these light-up wine bottles for other occasions too! Parties, birthdays, other holidays. You make it once, and it won't go out of style.
Plastic pumpkin bucket makeover 
Do you have any plastic pumpkins leftover from Halloween lying around (the ones kids use while trick-or-treating)? Consider repurposing one to act as a beautiful centerpiece instead. Start off by stuffing it with some plastic bags, old newspapers, t-shirts, or just general (non-smelly) waste. Then, tape it down with some duct tape, cover the whole pumpkin with a coat of white spray paint, stick on a real (or fake) pumpkin stem, and wrap the pumpkin in burlap. Once you've done that, feel free to decorate it as you see fit (a knotted jute rosette looks lovely on this).
Want to use leftover toilet paper and paper towel rolls in a clever way? Make them into napkin rings! Your guests will never know: Just cut them into 1- to 2-inch wide pieces and stamp a thankful saying on them. You can find really cute stamps online or at your local craft store. Better yet, find some eco-friendly stamp ink to go along with it, too. When the guests are gone, you can save these for reuse, recycle them, or simply compost them.
You're bound to use folding chairs at some point, if you have a lot of guests coming. Why not give those old rusty folding chairs a makeover? Just give them a fresh coat of paint and recover the seats. That way, you won't have to go out and buy new ones. Make sure to paint them a color that matches your house or your other decorations. Also, don't go overboard with extravagant patterns and bright paints: You want to be able to reuse these chairs for other occasions too!
Decorate your mantle, or any wall, with a fun acorn banner made out of recycled paper. All you'll need is some recycled paper (like old books, newspaper, etc.), twine, and recycled cardboard. These are super cute and make a great addition to any fall décor. They are perfect for leaving up all throughout fall, not just for Thanksgiving. If you don't want to use them for next year, make sure to recycle or compost them!