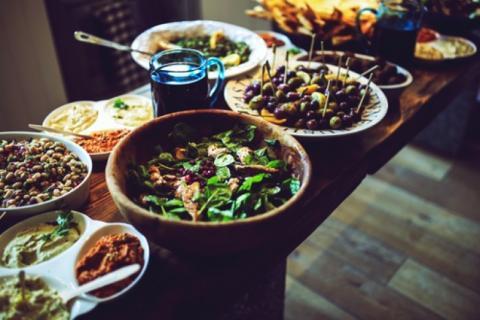 Tips for Hosting a Stress-Free Thanksgiving Feast
The truth is that I've never hosted a Thanksgiving, but I have made an entire meal spread for it. When you're vegan and gluten-free, the growling tummy that comes along with not grubbing with everyone else at family functions becomes tiresome. So, I went for it. Those murals make it look effortless, but making a cornucopia of food from scratch was quite a handful. Since last year, I'm thankful to have thought of some ways to relieve the stress and pressure of preparing so much food in so little time. If you want to spend less time in the kitchen this Thanksgiving, and more time with your family, you must put these seven prep ahead tips to good use!
Casseroles and Other Sides: Make these the day before! Assemble all of your casserole ingredients in its dish, cover it, and store it in the fridge. Then, bake it off the day of (it'll be fresh, toasty, and maybe even more delicious). Certain sides, such as cranberry sauce, can be made ahead too. Just heat it up when everything else is ready to go.
Dips: My family always has ample dips on deck to keep the hungry crowd at bay. Make them Wednesday, and pop them in the fridge. Don't be afraid to give those flavors time to mingle.
Bake Pies: The oven tends to be occupied on Turkey Day. So, bake pies beforehand. Those refrigerated pumpkin pies at the store are pre-baked, aren't they? They're still scrumptious, right? Exactly. Plus, pecan pies can be stored on the counter, at room temperature.
Peel and Chop Potatoes: It just isn't Thanksgiving without mashed potatoes. To be ahead of the game on Thanksgiving morning, do the boring, tedious time-suck task of peeling potatoes the night before. All you have to do is store the naked potatoes in water to prevent browning.
Let Stuffing Stale: Sounds weird, huh? Don't worry; it's not. Leave those cubes of bread out overnight to dry out. Trust me, it'll make a better stuffing. Perfectly moist bread just doesn't soak up all those yummy juices quite as nicely!
Set the Table: This one's a definite no-brainer. I bet you're wondering why you had never thought of this before. If you're a sucker for over-the-top, decorative table settings, this is for you. Set it the night before to save on time, but place the dishes upside down because dusty dinnerware isn't nearly as appetizing as you may think.
Prep Veggies: Newsflash: homemade meals require a lot of time-consuming prep work. No matter what, a ton of chopped veggies are going to be involved. Make it easy on yourself by playing sous-chef a day prior to the big meal. The veggies will store just fine in the fridge, and life will be a breeze because of it.