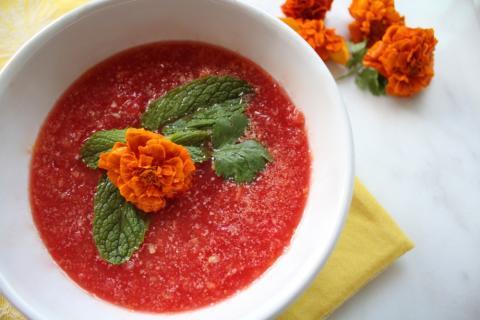 Many years ago, after a few hours on a sweltering beach, my friend and I gathered ourselves and climbed the dunes to a restaurant. It was on the patio there that we two tired, over-sunned young girls were brought back to life by generous bowls of cool, hearty, earthy gazpacho. Every summer since, when the temperatures soar, I think: soup.  And although I love a good tomato gazpacho, it's just the beginning.
On hot evenings when the thought of turning the stove on is enough to cause a sweat, there are few dishes more appropriate than watermelon gazpacho. Watermelon is 90% water, so it's unsurprising that this soup is cooling, hydrating, and easy to digest.  My rendition is a blend of summer pitta balancing fruits, vegetables, and herbs.  Watermelon, tomato, and cucumber are blended with touches of ginger and lemongrass essential oil, and the whole thing is garnished with mint and cilantro. What you end up with is a delicious, effortless soup that pleases both adults and children. Another of its virtues is that it works well for one or a crowd. It can be put together at the last moment, or refrigerated for up to three days. It's lovely on its own, or at the end of a long meal. You can also add crab or shrimp to it for a more substantial meal. It's particularly festive when presented in a bowl made of watermelon rind. (I typically keep my watermelon bowls to a minimal aesthetic, but I've seen quite elaborate ones. If you'd like to practice your pumpkin carving skills during the summer, this might be the activity for you.)
Gazpacho is a pleasing reminder that delicious food needn't be complicated.  It's hard to go wrong with it, but using the best, freshest ingredients will make yours great. When selecting most of its ingredients you can rely on sight and smell, but watermelon is a little more challenging. When selecting one, knock on it; if it sounds hollow, it's ripe.  When putting the gazpacho together, I grate the ginger using a microplane zester before adding it to the food processor so it combines well. And avoid over-blending: the soup should be thick and heavy. If you refrigerate it, be mindful that chilling will suspend the flavors somewhat; taste it again before serving as you might find that you need to adjust the seasoning.
Watermelon gazpacho tastes like summer in a bowl, for good reason.  It's composed of an array of summer produce. In Ayurveda, it's believed that adjusting one's diet and lifestyle in cyclical harmony with the seasons promotes optimal health.  Recent research has found that 90% of the cells that make up the human body are bacteria, viruses, and other microorganisms.  Soil microbes change seasonally and show up on produce. Fruits and vegetables are rich in microbes that support our bodies at a particular time, effecting immunity, digestion, mood, energy, weight, and sleep cycles. For example, the summer harvest is abundant in high-carb, low-fat foods that keep us energized during increased time in the sun. These foods tend to be cool, moist, heavy, and oily; they balance the season's hot, light, and dry characteristics.
As a nation, we Americans are mostly ambivalent about chilled soups, which is a shame. If you're at all hesitant, think of chilled soup as a step away from a smoothie, and dive in.  A few years ago while perusing a menu with an acquaintance, she gracefully leaned toward me and declared, "I'm a soup person." Without hesitation, I answered, "Oh, yes," and then added, "It's particularly good in a bikini."  Despite my lack of clarity, she knew exactly what I meant.  We've been friends ever since.
Watermelon Gazpacho
(Makes about 4 cups)
Ingredients
For the soup:
1½ lb. peeled, seeded, and cubed watermelon (about half of a small watermelon)
½ lb. ripe tomatoes, chopped
1 cucumber (approximately 8 ounces), peeled and chopped
¼ cup virgin coconut oil (I like wet-milled/fermented)
1 tsp. fresh ginger, finely grated
1 drop food grade lemongrass essential oil
pinch of sea salt
For the garnish:
fresh coriander, chopped
fresh mint, chopped
edible flowers (optional)
Directions
Combine all the ingredients in a food processor or blender and purée until well combined but still thick.
Garnish with coriander, mint, and edible flowers (if using). Serve immediately or refrigerate for up to three days.