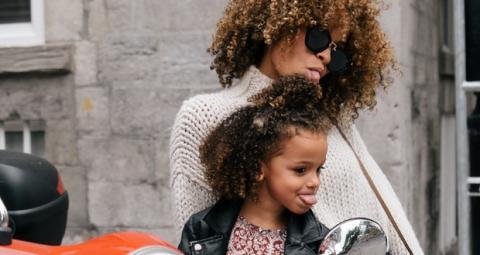 Mother's Day is just around the corner! If you haven't gotten her anything yet, don't worry, we've got you covered. While grand gifts are always fun to receive, we all know moms are happy just to spend time with their kids. And if you think about it, your mom's favorite Mother's Day gift is probably a piece of art you made when you were in pre-school. While she does deserve the best – after all she's the reason you're alive – it may not be in your budget to buy her, say, a brand new car. If you're looking for a way to celebrate mom, but don't have much money to spend, there are countless things you can do to show her your appreciation. From simply doing laundry to packing a picnic, here are some relatively inexpensive ways to celebrate your mom on Mother's Day.
1. Breakfast In Bed
What mother doesn't love breakfast in bed? It's certainly cheaper than going out to brunch at a restaurant, and way less crowded. Sneak quietly around the kitchen in the morning and whip up mom's favorite breakfast. She'll be happy she got pampered and didn't have to lift a finger. But please, it's Sunday and it's Mother's Day, so let her sleep in.
2. Do The Chores
Of all the things mom deserves on Mother's Day, it's a day off. That means no household chores!
If you really want to give mom the surprise of a lifetime, then do the work for her. Do the laundry, wash the dishes, vacuum the rug, wash the car, and you could even clean the shower. It's a simple act of showing you care, and for mom to not have to do all that hard work herself, she'll be more than ecstatic.
3. Pack A Picnic
Parks, beaches, or even a hike in the wilderness, every mom can appreciate a good picnic. Load up a basket with all her favorite foods. Whether you're a grown adult, or planning a family filled event that the little ones can partake in with mom, mom will be happy to spend the day with her kids.
4. Pick Flowers
Don't have the money to spend on a bouquet of roses? Then pick mom flowers instead. Every mom loves getting flowers, especially if you've taken the time to gather them yourself. If you have kids in the house, this is a fun, cheap present that they can give to mom. Put them in a vase with a ribbon and you are guaranteed to put a smile on mom's face.
5. Free Concert In The Park
Once the weather warms up, many local parks host free concerts. Check your local listings and see what's on the schedule. With it being Mother's Day, chances are there's something good going on in your neighborhood. Oh, and if you want to go all out, then pack a couple blankets and a picnic to enjoy your Sunday Mother's Day concert. Plus, did I already mention it's a concert for free?
6. Make A Homemade Gift
Nothing says "I love you mom" like a homemade gift. If mom has anyone five or under, one of the best gifts you can give are handprints. This is easy to do, and you probably already have the tools necessary. With some paint and paper, you can give mom a sentimental gift she'll never get rid off.
If you're past the handprint age, you could transfer a family photo onto a piece of wood, or even gather up all your family memories into a photo book. With a little creativity, and DIY help from resources like Pinterest, you'll have no trouble finding a gift to make for mom. And the fact that it's homemade will only mean that much more.
7. Dedicate The Day To Mom
It's her day, so let her have her way. Take the day off and do whatever she wants. Whether it's going out to breakfast, watching a movie, or simply having dinner at the house, take the day to spend with mom. By going out of your way to do whatever she wants on Mother's Day, you'll be giving her exactly what she wants: a day with her kid.
The most important part about Mother's Day is not what you give mom, it's that you took the time to celebrate her. No matter how big or small the gesture is, all moms really want is to spend time with their kids.
Oh, and don't forget your grandmother and other relatives in your life are also moms. Give them a call or send them a card, because after all, the day is about them, too!