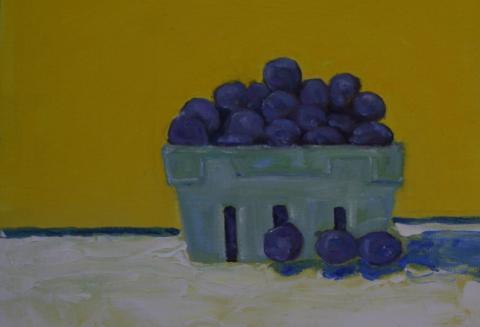 May tends to be a pretty cool month because it's not really "cool" at all. That's right! It's time to rejoice in the fact that warm sunshine is basically going to be a thing now—at least for the next five months. (Did I mention I live in California?)
In all seriousness, May, the month that leads up to the wonderful welcoming of summer, is fabulous for more than just one reason. In addition to being such a sunny time full of anticipation, May marks the arrival of a whole bunch of produce that's only truly in season during the warmer months. Plus, it's a given that deliciously juicy and refreshing summertime produce has been terribly missed by all.
1.     Blueberries: These beautifully blue precious gems are bursting with antioxidants, and they taste great, too! By the way, if you haven't eaten blueberries straight from the freezer, you haven't lived. Eat these tiny fruits on their own, in a smoothie, in a salad (or a muffin; live a little), or incorporate them into all kinds of breakfast items. Blueberry pancakes drenched in a blueberry sauce sounds absolutely amazing right now.
2.     Dill: Dill is an underrated herb that thrives in the warmer season, which means we're in luck! Obviously, potato salad isn't potato salad without adding some dill to the mix. Give dill a go, if you want to add some herbaceous flare to your dressings, sauces, and soups, too!
3.     Mangos: Before we begin, I just have to mention that I have a cat named Mango. As a nameless kitten, he stole a chunk of mango right off my cutting board. Original, right? Like most other fruits, the golden flesh of this tropical fruit makes a killer smoothie, salad, and/or dressing addition. For a sweet twist on a typically savory and often spicy side, toss some mango into yummy salsa. To eat it as is, simply cut around the large seed and throw away the peel. Don't forget the citrus juice drizzle and sprinkling of chili powder!  
4.     Peaches/Nectarines: I may be a California girl, but I wouldn't mind being a Georgia peach. That's how sold I am on a perfectly ripened, incredibly sweet and juicy peach. I can just picture myself, as a southern belle, on a humid Georgian summer night, eating peach cobbler, and washing it down with a glass of ice cold peach lemonade on a wraparound porch. Okay, fantasy over; I'm drooling. For those who are intimidated by fuzzy peach peels, go the nectarine route, instead. They're essentially freshly shaven peaches. Oh, yeah, if mangoes aren't for you, peach salsa is on the rise!
5.     Pineapple: Just to set the record straight, I grew up on cheese pizza (vegan cheese these days) that was always heavily studded with pineapple chunks. So, yes, pineapple DOES belong on pizza! Pineapple pizza is nothing short of perfection. I'm becoming a bit redundant, but stay with me; get this—pineapple salsa is popular, as well! Maybe we're just salsa obsessed? Who knows, but it's good. Fruit salads starring pineapple are always magnificent, grilled pineapple fresh off the barbecue is drool-worthy, and an old-fashioned pineapple upside down cake sounds superb. In fact, I think I'll go scout out some recipes.