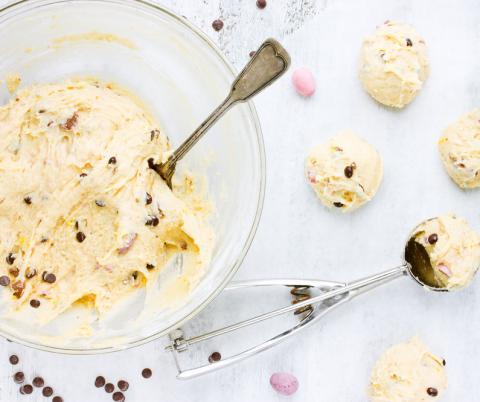 There comes a time in everyone's life where you decide to make a whole bowl of cookie dough simply for the sole purpose of eating it. I've been there and done that many times, but this time I decided to make the cookie dough a little...healthier.
Instead of wheat flour, I used oat flour; and instead of butter I used ground up cashews and a little bit of coconut oil. The sweetness comes from sucanat (or evaporated cane juice) but you could also use coconut sugar, which tastes wonderfully caramel-y and complements cookie dough very well. The key to the cookie dough flavor is vanilla extract; if you can find a really good quality vanilla I promise it will make all the difference. You could also use vanilla beans which are extremely vanilla tasting! I grind the flour in a high-speed blender, but if you have a good quality food processor, it will work just as well.
You will be amazed how similar this healthy cookie dough tastes to regular cookie dough! The ground-up oats and cashews give it a great dough-like texture and the coconut oil is pretty darn close to the texture of butter. You could also add in chopped walnuts, raisins, pumpkin seeds—pretty much anything you would put in actual cookies.
Vegan Chocolate Chip Cookie Dough Bites
Ingredients
1 cup rolled oats (ground into a flour)
1/2 cup raw cashews (ground into a flour)
1/3 cup sucanat or coconut sugar
1/4 cup coconut oil (solidified)
1/2 cup vanilla almond milk
3 teaspoons vanilla extract
1/4 teaspoon salt
1/3 cup vegan chocolate chips
Directions
First, grind oats and cashews in a high-speed blender or food processor. Put aside in a bowl.
In another bowl, cream together sugar and coconut oil. Add almond milk, vanilla extract, and salt, and stir vigorously with a whisk.
Add in flour mixture and stir until combined.
Add in chocolate chips and other desired add-ins.
Chill dough for a few hours, covered in plastic wrap.
Portion out dough using a tablespoon and roll into a ball or a flat cookie shape, or cut into rectangles (you decide!). Optional: dip each bite in melted chocolate.
Store in a container in the freezer. Makes around 15-20 bites.
Photo Credit: "choco-bite6665" by Jaclyn Enchin is licensed under CC BY 2.0.