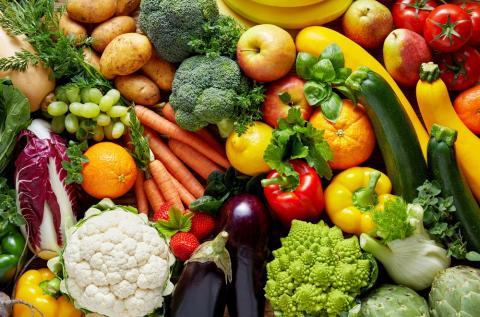 We all know that veggies are good for us. However, if the veggies have turned mushy or wrinkly, trash them not. Instead use them to boost your beauty routine!
More often than not, your refrigerator might have that one straggly carrot, shriveled tomato, withered potato or even that wizened pumpkin lying around. Before you aim for the bin, wait – instead of wasting those past their expiration date veggies, use them to give your skin a topical dose of antioxidants, flavonoids, vitamins, minerals and phytonutrients. Your skin will thank you for it, and you'll love the fact that you put to use that which was being wasted…
Dull Skin: Zap with Tomato
The end of summer in Spain is marked with the La Tomatina festival wherein the fun lies in throwing rotten tomatoes at everyone. The secret behind this festival perhaps lies in the properties of tomato – it contains lycopene which gives the epidermis a fresh coat of luster and acts as an internal sunscreen. To make the mask: puree a tomato, peel and all, and thicken with 1 tablespoon of gram flour (besan) or oats. Add in a few drops of lemon. Apply this to washed and dried skin – face, neck and décolletage -- and leave on for 10-15 minutes. Wash off. You can increase the quantities and use this as a body wrap, too, to take get a radiant complexion all-over.
Dry Skin: Moisturize with Pumpkin
Pumpkins burst with antioxidants, phytonutrients like beta-carotene and plenty vitamins and minerals that can be topically absorbed by the skin. To make a hydrating pumpkin mask for dry skin, mix 3 tablespoons pumpkin puree with 1 tablespoon honey and 1 tablespoon fresh cream (malai). Apply onto face, neck and any problem areas and keep on for 10-15 minutes. Use a little warm water to massage the mask in further and then rinse off. If you have dry skin all over, this is a great hydrating body wrap.
Oily Skin: Banish Acne with Carrots
Carrots contain plenty vitamin A (retinol) and beta-carotene which makes them a rather effective acne banisher. Boil carrots in a little water till soft and puree the same once cool. You can use this carrot puree as a face massage goop – massage in for 5-10 minutes and then wash off. If you want a targeted mask, further puree the carrot with 5-6 holy basil leaves (fresh or dried) and 2 garlic cloves. Apply to cleansed skin for 5-10 minutes and wash off. You can do this once a week.
Mature Skin: Tighten with Potato
Potatoes are an excellent source of vitamin C as well as a good source of potassium and vitamin B6, all of which help combat damage to the skin and provide it with a more youthful look by stimulating collagen production. To make a potato mask, blend a washed and peeled potato into a fine paste, and add in 1 teaspoon of fresh cream for a host of lactic acid benefits. This mask will tighten the skin a bit, brighten the visage and take a few years off your face, for sure.
Sallow Skin: Make a Radiant Beetroot Mask
For years, beetroot juice was used to stain the skin and lend it a pinkish hue. Its amazing phytonutrients and fungicidal properties make beetroot an excellent topical ingredient, too. To make a beetroot face mask, grate a beetroot and extract its juice (red, isn't it!). Now mix 2 teaspoons of this juice (no more, please) with 2 tablespoons of gram flour (besan) or oats and add in 1 teaspoon each of honey and lime juice. Mix into a smooth paste and apply over cleansed skin – face, neck and décolletage. Keep on for 10 minutes and wash off. You'll notice a lovely rosy glow. Perfect for that casual day out!
We hope you recycle those shriveled veggies this way: food saved means money saved – plus, you'll save yourself that salon facial trip too. Nature has plenty of tips and tricks to keep us healthy, inside out!
Namaste!