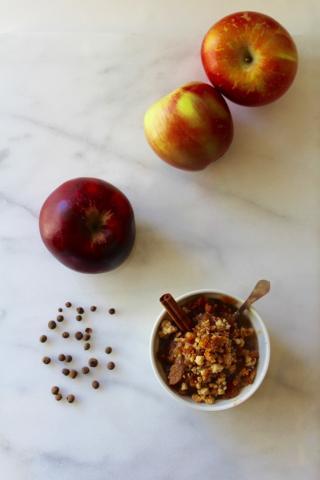 No matter how much I cook, food never ceases to amaze me, and every fall, I fall in love with apples all over again. During this time of year, many varieties are at the height of their flavor and texture. In nature they're falling from tree branches, and in grocery stores and farmers' markets, they're abundantly available. 
In Ayurveda, there's a time of year for all real, whole foods. Most apples ripen from June through November. Raw apples are good during the summer and fall transition, as they're thought to support the body by dissipating the heat that has accumulated during the warm months. November through February is the time for cooked apples, which create warmth and moisture, and balance out the vata dosha qualities of winter: cold, airy, dry, and light. 
Once the cold comes on I love cooking apples with honey and spices in a slow cooker until the fragrance is intoxicating and the mixture thickens and becomes golden and bubbly. Cooking apples in this way makes them remarkably versatile, comforting, and delicious. Today I'm sharing a version of my recipe with a crisp topping that is gluten and sugar free.
These spice scented apples can be served on their own or with the crisp topping. They can be used as a crepe or pie filling, or added to oatmeal. They're best warm, which allows the spices to sing, but they also work quite well with yogurt, served as a parfait with the crisp. There are so many ways to enjoy this recipe; I'm sure all of you will think of more great ways too. 
And by the way, I usually don't peel the apples when I make this. The peel is nutritious, and I like the texture that it adds to this particular recipe. 
APPLE CRISP
Apple Base/Filling:
3 lbs apples, peeled (if desired), cored and thinly sliced (Gala, Braeburn or Empire work well)
2 tablespoons fresh lemon juice
½ teaspoon ground cinnamon
⅛ teaspoon ground allspice
⅛ teaspoon ground cardamom
⅛ teaspoon ground nutmeg
½ teaspoon sea salt
1 vanilla pod, scraped, pod reserved
3 tablespoons raw honey
2 tablespoons grass fed ghee (or butter)
Crisp Topping:
½ cup almond flour
3 tablespoons coconut flour
1 tablespoon dried shredded coconut
¼ teaspoon sea salt
2 tablespoons grass fed ghee (or butter)
2 tablespoons raw honey
¼ cup whole, gluten free oats
Directions
In a slow cooker, toss apples with lemon juice, salt, spice mixture, and honey. Scrape vanilla bean and add to mixture, along with the pod.  Mix well and dot with ghee (or butter). Cover and cook on high for 4 hours, stirring occasionally.
While the apples are cooking, prepare the crisp. Preheat oven to 350°F.  Place all ingredients except for oats in a food processor.  Mix until texture is chunky, then add oats and mix again until just combined.  (Don't over mix or you'll end up with a dusty texture.)  Place on a lined baking sheet, forming clumps with your hands, which helps the topping hold together. Bake for ten minutes, turning halfway through, until mixture toasts to golden brown.  Let cool for ten minutes. 
Spoon warm apple mixture into bowls and top with crisp.