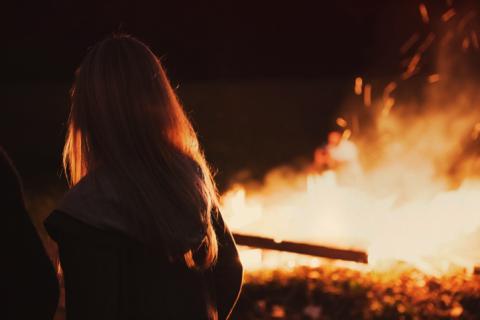 The holiday season is upon us, which means guests will be arriving any minute now. Spending quality time with our loved ones is great and all, but being an exceptional host – one who provides tons of entertainment – sure can put an overwhelming dent in the old wallet. Plus, if you're planning on doing any gift giving, the expenses can really add up fast.
I know you overachievers have probably already finished all of your holiday shopping, but some of us haven't even started (guilty). Whether you're still trying to figure out your financial situation or recuperate what you've already spent, there's good news—there are ways to save some money. Be smart; look into free activities that'll keep your guests entertained, without breaking the bank. Let's make sure this joyous, giving time of year is about memories, not money.
Bonfire: What better way to catch up with family and friends than by getting all bundled up, and sitting cozily around a warm fire? Make sure to bring along some hot cocoa and mulled cider (eh, wine?) for a festive holiday treat!
Free Outdoor Movie: Yes, these things exist! Research when and where these events will be because you won't want to miss them. Here in California, where the weather is ideal pretty much all year long, it's a cool way to catch a movie.
Free Museum Days: Museums may sound boring to some, but there really are museums out there for each and every one of us. When I lived in San Diego, there was free admission into museums on certain days of each month. Why not visit a place that's both interesting and educational?
Photography Session: Take in the fall scenery by doing a family photoshoot! Whether you have an expensive camera or simply a phone with a camera, make an adventure out of capturing the beauty of the season and precious moments spent together.
Nighttime Picnic: Shall we make these a thing? Appreciate the remarkable night sky, while eating dinner atop a blanket. It's a wonderful opportunity to gaze up at the endless, star-studded sky, and teach your kids about different constellations.
Family Sports: Friendly games of family sports always get a little competitive, but that's half the fun, right? Getting a game of tennis going is the perfect excuse to get out of the house, and get active. For some free laughs and an overall good time, play whichever sport your family loves most.
Tour Your Town: It might sound crazy (and a little unappealing, depending on where you live), but plan out a tour! Every place has a unique history that's just dying to be seen and shared. It's a shame that most people never take the time to be tourists where they live. Show your family why you're proud to call that dot on the map home.