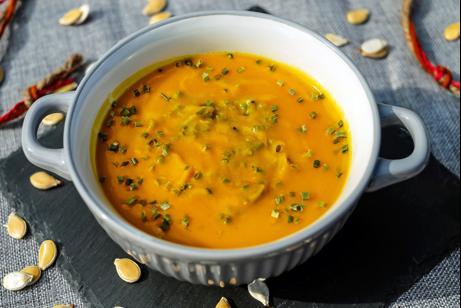 Savory Pumpkin Soup (Vegan)
*Serves 3-4 people
Pumpkin lovers rejoice! It is officially that time of year where the quintessentially fall flavor shows up in everything we eat, drink, and smell. If you're looking for a twist on the traditional pumpkin recipes, give this savory pumpkin soup recipe a try—it's a nice departure from the traditionally sweet food and drinks that we know all too well. Creamy and smooth, this soup is full of rich flavors without being heavy or over-powering. The green onions and garlic are sautéed in olive oil to mellow the flavors and add some subtle spice to balance the naturally sweet pumpkin. I used almond milk, but you could always substitute some coconut cream if you want a thicker texture -- just keep in mind that it may sweeten the flavor palette a bit. 
Ingredients:
2 cups pumpkin puree
1 Tbsp.  olive oil
¼ cup chopped green onion
3 cloves fresh garlic (minced)
2 cups vegetable broth
1 cup almond milk (or any non-dairy alternative)
Salt & pepper to taste
Directions:
-Put a large saucepan over medium heat and add olive oil.
-Sautee the garlic and green onions until tender and then add the pumpkin puree, vegetable broth and almond milk, mixing well.
-Cook the mixture over medium to low heat for about 10 minutes, adding salt and pepper to taste.
-Allow to cool completely before eating.