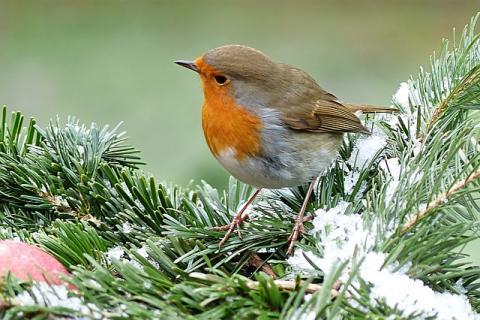 As winter approaches there is a lot of work that has to be done in order to prepare. I usually start with the garden.
My first step when preparing the garden for winter is to harvest any of the remaining vegetables and fruits. After everything is harvested, I clean up the crops by removing any old annual plants, leaving behind what is thriving, and moving the rest to the compost bin. Cleaning up the remaining plants helps to prevent any unwanted insects from bedding down, as well as avoiding any possible disease build-up.
After the crops are all cleaned up I plant any cover crops or winter vegetables in the garden. Cover crops will not only protect the soil from harsh winter weather (by providing a thin layer of leaves, etc.), but will also provide a constant source of nutrients for the soil all winter long. The garden doesn't have to stop; depending on what region you live in, there are plenty of vegetables that will grow and thrive throughout the winter months, such as kale, carrots, and collards. Spinach can be planted 4-6 weeks before the first frost and covered until late winter/early spring for the next year's harvest.
Planting cover crops will keep the soil covered and it will also enrich the soil with all sorts of nutrients and nitrogen. If I don't plant a cover crop what I like to do is cover the soil with straw or hay.  If you do this, try to avoid straw with a lot of seeds or you will have an unexpected crop pop up on you.
Another important part of preparing the garden for winter is working the compost. You'll want to include both green matter and brown matter in your compost. Green matter consists of fresh grass clippings and kitchen compost; brown matter is your dried grasses, leaves, and pine needles.
Here's a list of a few of my favorite cold hardy vegetables:
Carrots
Spinach
Leeks
Collards
Parsnips
Lettuce
Cabbage
Turnips
Swiss Chard
Preparing your garden for winter is just as important as getting it ready in the spring. The preparations are simple and it makes it so much easier to start the gardens in the late winter/early spring.