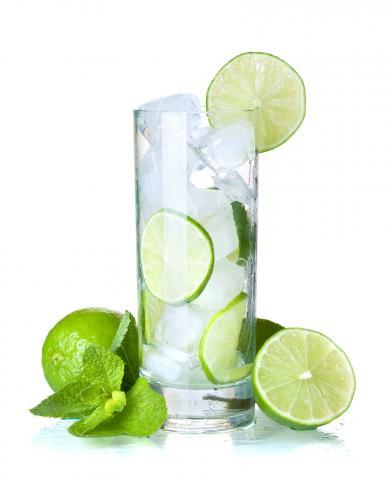 As the sun sits high in the sky and beats down profusely, the thought might cross through tired summer minds of reaping cool relief for all ages with ingredients that are simply lying around the garden and in the kitchen fruit bowl. With just a few limes, a handful of mint and some sweetener, the most delicious summer mint-lime cooler can be produced in just a few minutes, and is sure to please the whole crew.
Ingredients (for one pitcher full):
Juice of 6-7 limes
Large handful of mint leaves (these run wild in the summertime – or at your local grocery store)
½ cup raw honey or agave nectar (or other natural sweetener)
1 cup hot water
Ice cubes
Cold water to fill the pitcher
optional: 1 drop food-grade lemon, lime, orange or grapefruit essential oil
Melt the raw honey or other liquid natural sweetener in one cup of hot water to melt. Add lime juice and stir. Pour mixture in the base of a pitcher and add a drop of essential oil (if desired). Cover with ice (1-2 cups) and fill to the top with cold water. Stir.
For additional color and delight add slices of lemons or limes at a cross-section.
Enjoy!
Citrus is both cooling and PH balancing to the body. Raw honey is full of natural enzymes that support digestion and other body processes. Mint calms the belly and lifts the spirit. Essential oils should be used carefully, so if adding to the mix, make sure they are food-grade and use only a drop. Citrus oils are great for the metabolism (especially grapefruit) and help to purify the body. Together, this citrus-mint cooler combo creates an uplifting, delicious beverage to enjoy all the way through the fading summer.
Photo Credit: "Glass of water with lime, ice and mint" by baggiohuy is licensed under CC BY 2.0.