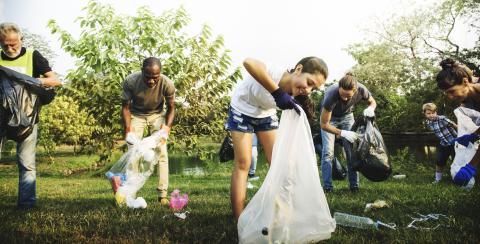 As one of nearly 7.5 billion people who inhabit Earth, you should ask yourself whether or not you're doing anything to make your time here meaningful. It's important to leave your mark (and I'm definitely not talking about a huge carbon footprint) as a way to pay thanks. What I mean is to pay it forward and do your best to earn good karma. Luckily, there are numerous small acts that you can follow through with, in order to pay your rent here on Earth, so to speak.
There is one thing that you can do on a daily basis that requires little to no effort. As obvious as it may seem, be kind. Kindness appears to be underrated these days. Our society is so focused on ourselves and our technology that self-absorption has taken priority over being kind. In a world full of far too many impatient and inconsiderate people, stand out by being kind. Don't forget to say "please" and "thank you." It may not seem like much, but small gestures can make someone smile. Even something as simple as opening a door for someone can brighten someone's whole day. Take advantage of every opportunity you come across to exude kindness.
In addition to being kind, be a volunteer. Believe it or not, you don't have to be wealthy to help out a good cause. You may not be able to support a cause by giving money, but you can always lend a helping hand. There are more volunteering opportunities out there than anyone can imagine. Some of the easiest ways to get out there are by serving at your local soup kitchen, collecting food to feed the hungry, helping out at an animal shelter, visiting a retirement home, donating blood, being a part of a beach cleanup, and/or planting trees. Being a volunteer is an opportunity to further develop your skillset, meet others in your community, and even gain professional experience. Volunteering in any way allows you to not only give back, but gain happiness and a deeper sense of purpose too.
You can even help out others on a simpler level. Just taking the time to have a good conversation with someone who is feeling down can make a world of difference. Asking an elderly neighbor if there is anything you can assist them with is another way to help. Donate your time by tutoring someone who is struggling in school; donate school supplies to a kid in need. Donate any clothes you aren't using to someone who has a greater need for them. Take some time out of your day to help out one another.
Providing community service in any way, shape, or form makes you feel good and makes others feel even better. Next time you make eye contact with a stranger, go ahead and flash a smile. When you see your neighbor at the grocery store, don't forget to wave. If you have no plans for an upcoming weekend, figure out where you can volunteer your time for a few hours. From one Earthling to another, do all that you can to show your appreciation for this planet and its inhabitants.