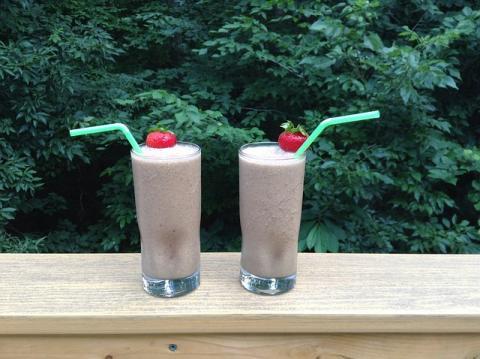 Healthy Chocolate Smoothie *Vegan Recipe*
(Serves 4)
Looking for a tasty treat to cool off with that isn't packed full of sugar? Give this smoothie a try! It's quick and easy to make, but oh-so-satisfying. The rich cocoa powder, cinnamon and subtle sweetness of maple syrup may taste like an indulgence, but this smoothie is packing some real protein and nutrients; silken tofu, banana and almond milk all come together to make the perfect start (or end) to your busy summer days.
Ingredients:
3 cups almond milk
1 large banana
2 tablespoons cocoa powder
2 teaspoons cinnamon
1 teaspoon maple syrup (or other sweetener of your choice)
½ cup silken tofu
1 cup crushed ice
Combine all ingredients in a blender, adding ice first to ensure an even texture.
Blend until smooth and smoothie becomes pourable, roughly 60 seconds.
Pour and enjoy!