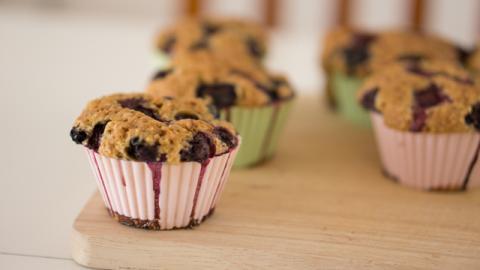 It's blueberry season and the fields are bursting with juicy berries! Make the most of them with this simple muffin recipe that will melt in your mouth. The applesauce both substitutes for eggs and acts as a natural sweetener, reducing the overall amount of sugar. With the chewy exterior, slightly tart flavor and incredibly moist insides, these muffins make the perfect summer snack.
Makes 12 Muffins
Recipe:
½ cup vegan butter
½ cup sugar
½ cup applesauce
1 teaspoon vanilla
2 teaspoons baking powder
¼ teaspoon salt
½ teaspoon cinnamon
2 cups flour
½ cup non-dairy milk
2 ½ cups blueberries
Instructions:
-Heat oven to 375 degrees Fahrenheit and grease muffin pan.
-In a medium bowl, mix butter and sugar until creamy.
-Add applesauce, vanilla, baking powder, cinnamon and salt.
-Stir in the flour and the milk, alternating small amounts of each.
-Mix in the blueberries and spoon into the prepared muffin cups.
-Bake 15 to 20 minutes, until golden brown and fully cooked.
-Allow to cool and enjoy.