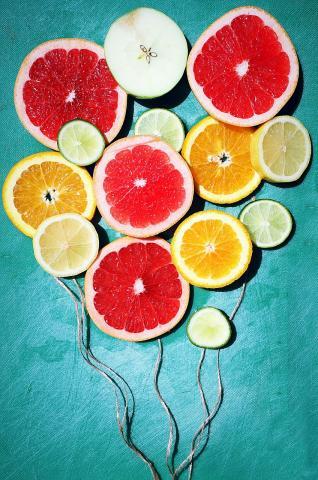 Remember those endless beauty secrets your grandma was such a proponent of? Well, most of them are true and do have a scientific explanation behind them. Let's explore a few common kitchen ingredients and the kind of magic you can work with them for a truly glowing visage! The great thing is that you don't have to make a market trip for these—you can simply raid your kitchen and are good to go. Always ensure you aren't allergic to any ingredient before applying it lest it causes a reaction.
Secrets from the Dairy
Ass's milk was what Cleopatra bathed in to preserve her ethereal beauty. Why milk you ask?  Milk's lactic acid is a natural AHA (alpha-hydroxy acid), which clears blemishes and evens skin tone. Plus, the fat in milk is a great moisturizer. You can also make the same recipes below using buttermilk or yogurt instead of the milk if you have oily skin.
Milky Face Scrub & Cleanser: In a small bowl, add 2 tablespoons of brown sugar and a pinch of turmeric. Add enough milk (use full fat if possible) to make a paste of the same. Now scrub your skin in circular motions for a cleansed, fair, and glowing visage. Repeat twice a week.
Milky Mask: For dry and aging skin, make a paste of full-fat milk and strawberries and apply on the face, neck, and décolletage. Let it dry and wash off for renewed skin. For youthful, acne-prone skin, make a paste of milk and banana and use in the same way. Can be done once a week.
Milky Hair Mask: A thick paste of full-fat milk (or cream), honey, yogurt and some olive oil goes a long way into repairing hair damage. Just apply this hair mask to detangled hair from root to tip—cover with a shower cap and keep on for 15 minutes. Shampoo and condition as usual. Can be done twice a week.
Tip: Honey is a great moisturizer and simply rubbing honey onto skin for 10 minutes before rinsing off is a great anti-aging treatment in itself.
Fruity Wonders
What's so great about the organic products everyone is talking about? The fact that they are au naturel! The next time you want to be closer to nature, raid your refrigerator for some fruits, even if they are mushy – full of AHAs, vitamins (antioxidants) and enzymes—fruits can really benefit your skin whether by eating or applying…
Citrus Care: Take 2 tablespoons gram flour (besan) and add to it the juice of citrus fruits (lime, orange, or tangerine) to make a paste. Apply this on your face, neck and décolletage and see the blemishes lighten. The skin might tingle a bit with this (due to the vitamin C) but the results are well worth it—use once a fortnight!
A Date with Dates: Soak dates in a little rosewater overnight to soften them—then pit them and blend them with the juice of half a lemon. Apply on face and wash off for a never seen before glow after 15 minutes. Can be done weekly!
Figgy Scrub: Peel a fig and crush it between your fingers to form a lumpy paste. Add some poppy seeds for granulation. Now gently use this grainy paste as a scrub—once done, leave on for 2 minutes and then wash off for an exfoliated skin. Use once a week.
Papaya Wrap: The humble papaya is bursting at its seams with AHAs and enzymes. Simply peel and cube a papaya and blitz it in the mixer for a smooth paste. Now carry this paste into your bathroom—shower up first to soften your skin. Smooth the papaya paste all over your body and relax for 15-20 minutes. You can keep massaging your body if you feel up to it. Wash off with tepid water and then moisturize as usual—guaranteed to give you soft skin like never before! Can be done weekly; you can do this with mango, too!
Avocado Hair Spa: The 'buttery' texture of this fruit is great to deep condition your hair. Blitz a peeled and cored avocado with olive or almond oil and honey to form a thick paste. Liberally apply the goo all over your scalp and hair and then put on a shower cap for 20 minutes. Shampoo and condition as usual for hair that's oh-so-soft—repeat weekly for great results.
Veggies To Glow
Thought veggies were just good to eat? Well, try these beauty recipes from vegetables instead for skin that glows and hair that shines…
La Tomatina: The Spanish festival, rotten tomatoes and all, is actually great for the skin. Tomatoes take off tan and are full of antioxidants that build up skin immunity and fight acne. Simply blitz a tomato, skin and all, in a mixer and apply this paste all over the skin—keep on for 20 minutes and wash off for a noticeably fairer glow. Use once in a fortnight.
Potato Head: Do this one at night: peel and boil a potato till just slightly soft. Cut strips off the potato and place on areas of your face plagued with blackheads. Using adhesive bandages, stick the pieces into place and go to bed. In the morning, the blackheads will either be on the potato or close enough on the surface of the skin to be extracted easily. Repeat once a fortnight.
Cucumber Cleanser: Blitz a cucumber into a mixer and apply on skin for 15 minutes—wash off for cleaner, tighter skin that fights acne too! Repeat weekly.
Carrot Matte: Peel and boil carrots and then blitz into a paste. Apply this onto your face, neck and décolletage for skin that's free of oil and glowing with the goodness of antioxidants and vitamins. Excellent for a slightly mature skin. To hydrate dry skin, mash avocado too. Repeat weekly.
And once you are done feeding your skin with the goodness of milk, fruits, and honey, remember to send your grandma a note of thanks, wherever she may be! Happy kitchen raiding to you!