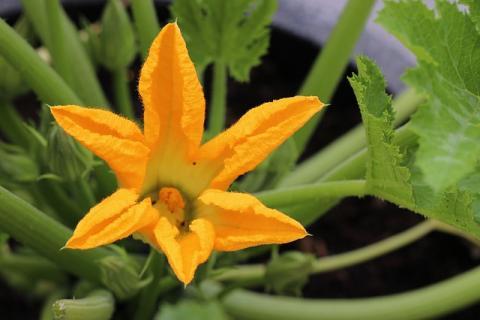 Gardens everywhere will soon be overflowing with more zucchini squash than anyone knows what to do with . For something divinely different, try this recipe for zucchini and corn ambrosia. It's quick and easy to make, and any reheated leftovers taste even better.
The only labor-intensive thing about this recipe is dicing the zucchini into tiny pieces, which is critical because it doesn't work with large chunks. Otherwise there are a few substitutions or variations to consider, depending on personal preferences.
The preparation can be kept simple or modified as desired. For best results avoid using large, seedy zucchini. Use frozen corn kernels to avoid slicing the kernels off cobs.
The basic recipe calls for Boursin cheese, but any similar soft creamy-herb cheese such as Alouette and Rondele can be substituted. You can also try making your own by combining 8 ounces of cream cheese with 4 tablespoons of butter, garlic, pepper and your favorite herbs.
This ambrosia can be served as a side dish or as an optional main course by adding diced prosciutto or chunks of precooked chicken sausage. It tastes good with Riesling or other white wine.
Zucchini and Corn Ambrosia
Serves 4 to 6
1 large or 2 small onions chopped into bite size pieces
2 or 3 tablespoons of olive oil
1 teaspoon of cumin (add more to taste if desired)
1/2 teaspoon of salt
2 medium or 3 small zucchinis diced into tiny pieces, about twice the size of a kernel of corn
1 ½ to 2 cups of corn (frozen kernels are easiest)
6 to 8 ounces of Boursin cheese (or similar soft, creamy herb cheese)
Heat olive oil on medium heat in a skillet (preferably cast iron) before sautéing the onions with cumin and salt for 2 or 3 minutes until translucent. Add the diced zucchini and cook 2 or 3 minutes until soft. Add the corn in approximately equal portion to the zucchini and cook another minute or so. Turn the heat down low, add the cheese and cover. Simmer gently for 2 or 3 minutes, stirring occasionally until the cheese is melted and blended thoroughly.
Optional: Add diced prosciutto or chunks of precooked chicken sausage to create a main course, before adding the cheese.
Enjoy this dish like it's food for the gods.