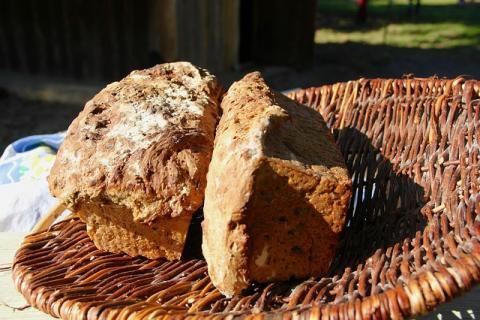 This zucchini bread is a delicious treat that both vegans and omnivores will enjoy. Moist on the inside and chewy on the outside, there are subtle notes of cinnamon and vanilla that pairs well with your afternoon coffee and a good book in the sunshine.
Since zucchini is a summer squash, this recipe is perfect for the months of June-August when you have an excess of zucchini needing to be harvested in the garden, or when they show up fresh at the market. As a plus, you can even use those overripe bananas that have been sitting on the counter a little too long!
Recipe:
Yields two 8 x 4-inch loaves
Ingredients:
3 cups flour
1 teaspoon salt
1 teaspoon baking soda
1 teaspoon baking powder
3 teaspoons ground cinnamon
2 medium bananas, mashed
1 cup coconut oil
2 ¼ cups sugar
3 teaspoons vanilla
2 cups grated zucchini (about 4 small zucchinis)
Start by washing, cutting and grating your zucchini. Then prepare the two 8 x 4-inch baking pans with oil and flour before preheating your oven to 325 degrees (Fahrenheit).
While the oven is heating, sift together flour, salt, baking soda, baking powder and cinnamon in a medium bowl. Then mix the mashed bananas, coconut oil, vanilla and sugar together in a separate, larger bowl.
Combine the dry ingredients with the wet ingredients in the large bowl, mixing well. Stir in the grated zucchini until well-combined and then pour the batter into the prepared pans.
Bake for about 45 minutes, or until the center of the loaf is completely cooked. Allow to cool before serving and enjoy!