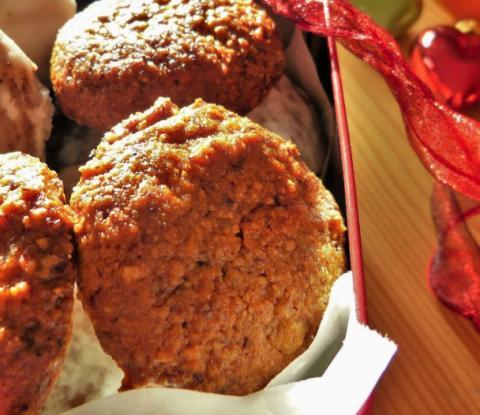 Ginger cookies are my favorite treat to make around the holidays! With their spicy flavors and chewy consistency, they make a perfect dessert to enjoy while you decorate the house or wrap gifts. The applesauce stands in for eggs and adds some moisture, while the dark molasses adds a nice richness of flavor that you won't find in very many cookie recipes. Happy Holidays!
Vegan Gingersnap Cookies
Makes about 24 cookies
Ingredients:
2 cups Flour
1 Tablespoon Ground Ginger
1 teaspoon Ground Cinnamon
½ teaspoon Salt
¾ cup Vegan Butter
1 cup Sugar
1/4 cup Unsweetened Applesauce
¼ cup Dark Molasses
¼ cup Ground Cinnamon & Sugar Mixture (equal parts)
Directions:
-Preheat oven to 350 degrees Fahrenheit.
-Sift flour, ginger, baking soda, cinnamon and salt in a mixing bowl.
-Cream vegan butter in a separate bowl with white sugar. Add the applesauce and dark molasses.
-Sift about 1/3 of the flour mixture into butter mixture and stir thoroughly. Then add the remaining flour mixture and mix it until a soft dough forms.
-Separate small pieces of dough and roll them into balls. Dip each ball in a mixture of cinnamon and sugar before placing on an ungreased cookie sheet.
-Bake cookies for about 10 minutes or until the tops become rough and cracked.
-Allow to cool for 5-10 minutes before serving.