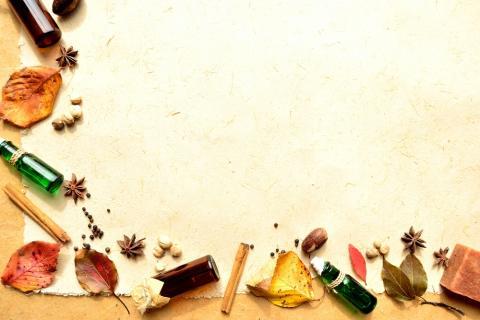 Autumn is approaching, at least for those of us with discernible seasons. Though days here in Durango, Colorado, are still reaching the 90s, nights and mornings are cool and the sun is getting lower in the sky.  Whether you love pumpkin spice and changing leaves or struggle with the shortening daylight hours, a great way to mark the seasonal change is to make your own natural perfume blend for the fall. 
There are multiple themes to consider.  For example, do you want to capture the essence of the season?  Or are you wanting support with the waning light?  Or are you wanting to assist yourself on the introspective journey inward that this time of year often entails?   Are you looking for inspiration or insight on what "seeds" to plant for germination in the new year?  You likely have many other ideas that I've not even considered…
If the growing darkness is an issue, including sunnier uplifting scents is a good way to go. If you embrace the moving inwards that accompanies the fall, earthy scents are a good addition—or try a combination of both for a well-rounded blend.  Fall is when we are in closer touch with the subterranean…our subconscious.  It's a time for introspection and for planting the seeds that will germinate in the spring:  Goals, intentions, wishes for the world.  A blend for diving deep and enhancing your dream life may be what's right for you.
Here are some blends to get you started. They're great as they are or can serve as a jumping off point for your own creativity and needs.  The proportions listed are what works for me. Your nose is different, so feel free to modify!
Mining The Underground
This blend is for helping you plug into your subconscious to bring back insight.  It includes oils to promote more vivid dreams and better dream recall, together with those for grounding and centering. It's also a helpful meditation blend, providing support for your foundation but also opening your crown.  
Juniper: 12 drops
Lavender: 3 drops
Clary Sage: 2-3 drops (can add more, but start with this, since it's strong)
Labdanum: 1 drop
Vanilla: 1 drop
Light In Fall
Many people react poorly to the shortening daylight—some pretty severely and others with a more minor or vague sense of melancholia.  Citrus oils are some of the best for bringing some light into your life.  Ginger is Qi moving and while the focus isn't to continue your summer level of activity into the fall, you also don't want to go stagnant, especially if low mood is an issue for you in the darker months. Benzoin and patchouli are also uplifting, with benzoin giving support for those feeling lonely or exhausted and patchouli encouraging a bigger perspective. 
Sweet Orange: 5 drops
Tangerine: 5 drops
Lavandin: 4 drops
Geranium: 1 drop
Ginger: 2 drops
Benzoin: 3 drops
Patchouli: 1 drop
Autumn Leaves
I love the sensations of fall.  The colors. The sound of leaves blowing along the pavement.  The scents.  (Yes, there are scents beyond pumpkin spice!)  This blend is an attempt to represent the woodsy, smoky and, yes, spicy, scents of fall.  
Cypress: 15 drops
Cedarwood: 5 drops
Black Pepper: 3 drops
Bay Laurel: 2 drops
Cardamom: 1 drop
Cinnamon: 1 drop
Cedarmoss: 1 drop
Vetiver: 1 drop
How To Use Your Essential Oil Blends
These and other blends can be used as…
1. Body Perfume
For a concentrated perfume to dab on wrists, dilute 50-70 drops of essential oil blend per ounce of jojoba oil. This is just for dabbing!
For an all over body scent, use 6-7 drops per ounce of carrier oil, lotion, or cream.  
Note that some of the oils in the recipes may be skin sensitizers for some people. Make sure your citrus oils have been stored in the fridge and haven't been open for more than a year before using them in a topical blend (after dilution into a carrier oil or lotion).
2. Room Spray
10-15 drops of essential oil blend per ounce of vodka. The alcohol scent dissipates quickly. Shake well before spraying. 
3. Diffuser Oil
Follow the instructions that come with your diffuser. Don't diffuse 24 hours a day.
Add a drop to a lightbulb in the room.
Add a tiny bit to your pillow, no more than a drop (don't put any on the surface of the pillowcase).