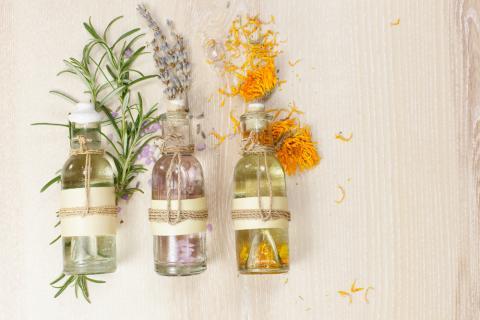 It's spring!  (At least for those of us here in the northern hemisphere.) It's a great time to make your own seasonal perfume blends to celebrate the return of green. Spring brings to mind rebirth, flourishing, moving forward, and movement in general.  Any of these can inspire a great-smelling, natural blend.  Or you can center your perfume around one main essential oil. 
Here are some scent qualities and a handful of representative oils that jive with spring to help you craft your perfect perfume…
Floral Scents
Floral scents are just that…scents that smell like flowers and generally originate from—you guessed it — flowers.  Some good ones for spring include neroli, geranium, rose, chamomile, lavender, and lavandin.  Lavandins are lavender hybrids that have a higher level of "top notes" for blending. 
There are other lovely floral scents. But some, like tuberose and jasmine, fit better with summer, I think. This isn't related to their bloom time, but rather to their big, fat, luscious scents that fit well with the plentitude and lushness of summer.  Rose is also great for summer! 
Green Scents
Green scents may be grass- or plant-like. There is a definite quality to them that says "vegetation." Examples include petitgrain, conifer oils such as cypress and juniper, rosemary (verbenone chemotype), and helichrysum.
Fresh Scents
These are clean, refreshing scents. Examples include petitgrain, bergamot, lemon, grapefruit, tangerine, and conifer oils like the aforementioned cypress and juniper. Pine is another with a fresh scent, but in my mind, pine brings up winter. 
Ethereal Scents
These are heady scents with a high vibration…way up there!  Light, but not as in a wimpy scent.  If you've ever smelled ether (though I don't recommend it…not so healthy) from which ethereal was derived, you'll understand what I'm talking about.  Ether itself has been described as a sweet, cloying scent…hard to really describe well but once you've smelled it, it's logged into your brain forever.  Some examples of oils with ethereal notes include neroli and davana.
How To Make Essential Oil Perfumes
For the following blends, the amounts are a good starting place; alter as you like then dilute with jojoba oil before using. Remember: a touch of sweet and spice is never a bad idea.
After the initial blend, set it aside for a few days, then come back to it to "edit"it.  Perfumes are like soup: the blend gets better when it sits for a bit. Also, the base notes (e.g., vetiver, frankincense) will be more noticeable the next day.  If they are too much, you can add in more of the top and middle notes. 
Keep in mind that natural perfumes don't last as long as synthetic, so you'll need to reapply again during the day.  Though they don't last as long, you'll find that natural scents have more nuance and are less flat than synthetic. 
Spring Rain Perfume
petitgrain: 8 drops
English lavender: 7 drops
grapefruit: 2 drops
davana: 2 drops
vetiver: 1 "toothpick" (dip skinny end of toothpick in, then swirl it in the mix)
New Garden Perfume
petitgrain: 6 drops
lavandin: 6 drops
frankincense: 3 drops
geranium: 1 drop
Roman chamomile: 1 "toothpick" (dip skinny end of toothpick in, then swirl it in the mix)
Spring Equinox Perfume
frankincense: 3 drops
petitgrain: 3 drops
cypress: 2 drops
juniper: 2 drops
bergamot: 1 drop
tangerine: 1 drop