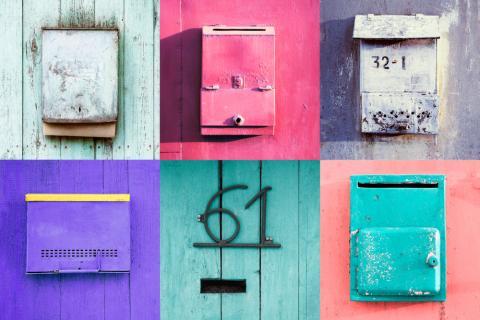 Over the last few months, my husband and I have tried to reduce our waste while renovating our decades' old house. One of the projects that I finally tackled last week was the mailbox.
Since moving to my new home a year and a half ago, I've collected mail from our black, rusted mailbox six days a week. Two weeks ago, I finally had enough. The mailbox needed major revamping. If your mailbox is in the same sad state, consider this project. It's great for adults and kids alike (granted you're okay with whatever colors and designs your children create) and can be a fun indoor summer craft during a heat wave or after a long day at the beach. Plus, painting has several benefits: focusing on a new painting can reduce stress, using a variety of colors can influence emotions, and tackling new scenes and designs can nurture creativity. 
Painting Your Mailbox
To start, check the condition of your mailbox. Many can be cleaned well with gentle soap and warm water and come away looking brand new. Mailboxes that are particularly old (or well-loved) may require sanding, as well. If your mailbox is no longer suitable or is not the style you're looking for, a new mailbox can be purchased for less than $20 at your local hardware store.  
If your mailbox is new or already your desired color—great! It means you can skip the next step. If not, consider applying a primer paint and then spray painting the mailbox the color you wish. A white mailbox allows for any color to be used, whereas mailboxes that are black or darker in color will require more paint. 
Once your mailbox is ready to be painted with designs, lay old newspaper over a table or the floor. A small paint palette can help reduce the amount of paint that is wasted; alternatively, an old egg carton can do the trick. 
Most acrylic paints will work well. I suggest using outdoor paints that are designed to be UV- and weather-resistant. These can ensure the longevity of your mailbox design. 
Design Options
I knew before I started painting that I wanted to create a design that reminded me of summer when the dark, dreary days of the Pacific Northwest's winter come around. I decided on a variety of wildflowers—bright lilacs, fiery-red Indian paintbrush, and golden arnica. The result was a cheerful, though certainly not professional, rendering of summer alpine meadows. 
Not all designs need to be nature-inspired, however. You might choose to spray paint your mailbox one solid color or simply adorn the side with your address. Other popular additions include ladybugs, sunflowers, or something symbolic of your town. 
Family-Friendly Options
If you're open to creative designs and have children, getting them involved can be a great summer activity for the family. Opt for non-toxic acrylic paints rather than spray paints and choose a side to work on. If someone isn't happy with the outcome, a fresh coat of paint can always cover up any blemishes.
Happy painting!