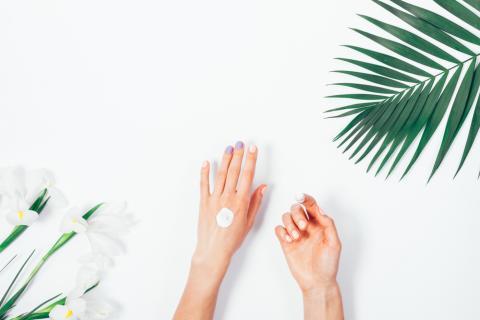 Manicures are always fun but going to a nail salon can expose you to a lot of toxins. Nail salons are not known for their air quality: Every time you step foot into one, you could be inhaling a number of chemicals suspected of causing cancer and birth defects. Not exactly comforting news in a place that's supposed to promote relaxation. Instead of risking your health, why not try giving yourself a natural manicure? Painting your nails is much more relaxing when you know you don't have to worry about inhaling dangerous fumes.
Step 1: Soak Your Hands 
Begin by relaxing yourself by soaking your hands in a bowl of warm water. You can add a few drops of essential oil to this soak to make the experience more fragrant and enhance the therapeutic benefits. Rose, lavender, and geranium essential oil are good choices for this as they smell beautiful and can help relax you, melting the stress away. Just add 3 to 5 drops of the oil to your warm water bowl and dip both your hands in (if it's big enough—if not, soak each hand individually). To make sure your hands don't prune up, give both hands a soak for one to three minutes. 
Step 2: Apply Cuticle Oil 
Next up, you're going to want to apply some cuticle oil. I recommend looking for an all-natural cuticle oil you can trust. You can even DIY your own. Here's a cuticle oil recipe to try: 
Ingredients:
4-1/2 teaspoons avocado oil 
4-1/2 teaspoons jojoba oil 
3 teaspoons moringa oil 
7 teaspoons prickly pear seed oil 
10 drops lavender essential oil 
5 drops tea tree essential oil 
10 drops German chamomile essential oil 
Directions:
Combine the avocado, jojoba, moringa, and prickly pear seed oils in a glass bottle.
Then, add the essential oils.
Cover the bottle and shake it well. The German chamomile will give it a beautiful brilliant blue color that will absolutely stun you.  
Once you've made your cuticle oil, or purchased one from a natural brand you trust, you can use it in your natural manicure routine. I recommend making the cuticle oil beforehand, if you intend on making it yourself. 
First make sure to dry off your hands using a cloth napkin or dish towel. You want them nice and dry before doing applying the cuticle oil. Once your hands are ready, just massage one to three drops per hand into your cuticles. Applying this oil will aid chapped, cracked skin and promote nail growth. The best part is, the DIY cuticle oil only contains 7 simple ingredients you can actually pronounce and feel good using on your skin. Simple and efficient. You can also use coconut oil as a substitute if you don't have any cuticle oil at hand (pun intended) or don't have the ingredients to make the DIY cuticle oil. Just massage coconut oil into your nails and enjoy the feeling. 
Step 3: Paint Your Nails
Here comes the fun part: Painting your nails! While nail salons may have a lot of colors to choose from, they also have a lot of potentially harmful ingredients in them too. Play it safe (and give yourself a gorgeous manicure) by using more natural nail polishes. There are lots of natural nail polish brands out there, and they all offer advanced, quick-drying nail enamels delivered in high-shine, chip resistant, long-lasting finish. These nail polishes are a healthier choice for both you and the environment. That said, it's important to keep in mind even more natural nail polishes still have chemicals in them, as creating a high-quality nail polish requires some. There are some edible nail polishes on the market (Kid Licks), made from only organic ingredients, but they're marketed more towards kids, less towards adults who want beautiful shine and diverse colors. 
Once you've selected the (natural) nail polish of your choice, apply one coat to each hand and let it dry before applying a second coat. Then, wait for your nails to dry by meditating, watching some TV, napping, or listening to some tunes. 
Step 4: Use Hand Cream 
When your nails have fully dried and they're not tacky anymore, it's time to apply some hand cream. Applying hand cream is a good idea because it helps nourish your skin and keeps it moisturized. It also helps keep your hands looking younger much longer. Plus, it's a fun way to give yourself a little hand massage after a job well done. You can make your own hand cream. Just follow these directions. 
Ingredients: 
1/2 cup shea butter 
1/4 cup coconut oil 
1 teaspoon raw honey 
10 drops sweet orange oil 
10 drops lavender oil 
Directions: 
Place coconut oil and shea butter in a double boiler and heat over a low flame until everything melts into liquid form. Once melted, remove from heat and leave it to cool off in the fridge for about 15 to 20 minutes.  
When the time is up take it out from the fridge and whip it using a hand mixer for 5 minutes, then add the raw honey and essential oils. Whip again until everything combines well and it forms a creamy white mixture. 
Transfer it into a glass jar and enjoy! To use, just rub a pea sized amount into your hands. 
If you choose to make a DIY hand cream, just like the cuticle oil, make sure you do it beforehand so it's ready for you directly after your manicure. Apply as much as you want or need and give your hands a massage. They've earned it!
Congrats—you just gave yourself a natural manicure! 
For more tips on how to take care of your nails, the natural way, be sure to check out this Ayurveda guide to fingernail health.