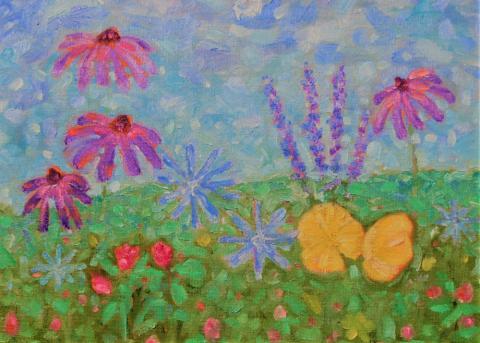 Wildflowers are at their peak during mid-to-late summer in the northern United States and throughout Canada, but they're more than just pretty. The bright purple of coneflowers and the blue of chicory are delicious for the eyes, but even better for the body. Consider that 25% of the pharmaceuticals available today are made up of medicinal wildflowers. Wildflowers are incredibly beneficial for wildlife, too, making them multipurpose: beautiful to look at, shelter for insects, food for birds, and, most importantly for this article, helpful for alleviating a variety of aches, pains, diseases, and illnesses. There are hundreds of wildflowers to be found on any given hike throughout North America; slow down just enough to identify these helpful species.
Please note, that while beautiful and medicinally useful, do not carelessly pick large quantities of wildflowers in national, state, or local parks. Many of these wildflowers are endangered. If you're unsure, contact your local park ranger or join a botany or wildlife club, like Sierra Club or the Audubon Society. 
Purple Coneflower
The name of this wildflower is taken from its dashing looks—magenta petals bow away from a bright purple, sometimes brown, cone. More commonly known as echinacea (yes, the same echinacea used to treat and soothe colds and sore throats!), the purple coneflower is a perennial that is a staple native plants for bees and hummingbirds. The Native Americans of the United States and the First Nations people of Canada should be credited for discovering almost all of the medicinal uses of wildflowers and plant species, and the purple coneflower is no exception. Early Native Americans used the roots for a variety of problems, including snake bites, insect bites, burns, cuts, and toothaches. Today coneflowers are most commonly used to soothe sore throats associated with colds and flus. Importantly, the entire plant can be used, from the roots to the stems, and the leaves to the petals. There are a variety of coneflowers available to plant in your own garden, but look for a variety of cultivars in colors like yellow, orange, and pink.
Chicory
This bright blue-flowering plant isn't native to North America, but grows abundantly in many places–and, in some ways, that's a good thing. Chicory is common in coffee products and caffeine-free products because of its similar coffee-like and earthy taste. Native to Eurasia but prolific to meadows and trails throughout the United States and Canada, chicory has the ability to promote milk-flow in new mothers, while the leaves of the chicory have been used as poultices. Research has demonstrated chicory's ability as antibacterial and anti-inflammatory. While chicory can be cooked like other leafy greens, its basal leaves taste like dandelion, suggesting bitterness. In such a case, this one might be better left as medicine and not as part of a salad.
Evening Primrose
Evening primrose, a pretty, yellow-flowered plant that grows up, rather than out, is vital as a supplement to those looking for a boost of omega-6 fatty acid. The perennial plant is typically found at high altitude and, in North America at least, has between 6 and 8 native species. Evening primrose oil, the most common tincture produced from the plant, is distilled from the seeds. The oil—"gamma-linolenic acid (GLA)" as Dr. Weil of drweil.com explains—is an omega-6 fatty acid, a necessary oil for humans. Native Americans commonly used evening primrose to treat depression and anxiety, to stimulate bile, and in the treatment of gastrointestinal disorders. Additionally, evening primrose oil can be used to reduce breast pain and inflammation. 
Lavender
My favorite smell in the world is lavender and because of that, one of my favorite places in the world is a lavender field. Lavender isn't native to North America—it's an old world plant, mainly originating in Europe—but it is possible to find varieties of lavender in wild places, mostly thanks to seed-transportation by birds and other creatures. If you don't have the chance to hike at altitude or to a wild area, consider visiting a nursery and purchasing your own lavender. These hardy perennials have a long history of human use, including as an antiseptic, a sedative, a stress and headache relief, bile stimulant, and digestive aid thanks to its bitter qualities. Recently, lavender has been relied upon in aromatherapy thanks to its refreshing, relaxing scent. Try picking your own lavender at a u-pick, then drying the flowers and using them in tea, kombucha, or in a delicious truffle recipe, like this one. 
Red Clover
Most people have fond memories of picking wild clover as children and sucking on the bright pink flowers to taste just a hint of grassy sweetness. Red clover is no different and provides the same delightful taste—but with actual medicinal benefits you might not have known about as a kid. Red clover is one of the richest sources of isoflavones, which are compounds that have properties similar to that of estrogen. As such, red clover is particularly beneficial to those suffering from menopausal issues like hot flashes and night sweats. Beyond alleviating hormonal problems, red clover can be used to help acne, allergies, eczema, headaches, joint pain, and osteoporosis, and it happens to be incredibly anti-inflammatory, too. I'm familiar with red clover as a tea, but you can also find red clover capsules if you're not a tea drinker. As always, make sure you find clean, organic sources to reduce intake of pesticides.
Happy (and healthy) foraging!