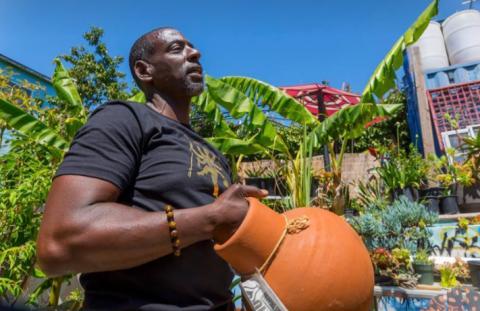 Ron Finley is an urban gardening rebel and role model in Southern Los Angeles, where he grew up. As well as being a passionate practitioner and promoter of community gardening, he is a father of three boys who offers a fresh, open-minded take on how men and all people can relate to the earth.
"Gardening is gangsta: Mother Nature is gangsta. Being educated, creative and self-sustaining is gangsta…If you want to be gangsta about anything, make it about building your community, sharing knowledge," writes Finley in Positive News. He refers to the Los Angeles food culture as a food desert or "food prison," wherein it's often easier to acquire alcohol or a firearm than fresh produce. In his related TED talk, Finley states the local "drive-thrus are killing more people than the drive-bys."
In food deserts, access to nutritious food is limited due to factors such as distance and cost. The food-waste-fighting nonprofit Food Forward explains that neighborhoods with a high proportion of African-Americans and individuals with low-incomes tend to have fewer nearby supermarkets. In 2015, the hunger-relief organization Feeding America reported that Los Angeles County had the highest population of food insecure citizens in the U.S., with 1.5 million people and 25 percent of youth lacking access to a nutritious diet. In a victory for food equity in 2016, all LA City Farmers Markets were required to accept CalFresh electronic bank transfers (EBT), or food stamps, which nearly 1 million citizens use.
Finley began to craft his own response to the lack of fresh local food in 2010, when he started a garden in the strip of unused dirt next to his home. Because the "parkways," or areas of soil along roadsides, are owned by the City of Los Angeles, Finley was cited for his project. In response, he petitioned for his right to grow food in his neighborhood with other green activists, and according to his website, the city then "backed off."
Finley currently grows kale, peppers, sunflowers, corn and pumpkins in his garden. His new vision is for an urban garden called "HQ," which will be a hub for locals to garden, learn, cook, and unite. The plan is to "create a myriad of jobs for local residents, and [a] plot of land [that] will be a self-sufficient ecosystem of gardening, education, cooking, business learning and management."
Finley feels it is especially important to integrate male role models and youth into a local healthy food production system. While Finley lacked a strong male mentor in his own youth, he is proud of the role he has played in the development of his sons' happy and independent spirits. He wants men to understand that gardening is one way of being a "provider and protector," as prescribed by society, and for everyone to learn the "alchemy and Art of Mother Nature."
Along with encouraging engagement with local farming, Finley promotes emotional health: "I don't see holding back emotion or affection as being a man. I've cried onstage."
"I don't really separate being a man and being a human being – being a conscious citizen of this planet," he also conveys. "We all want healthy food, clean water and to be loved." It's hard to argue with that.