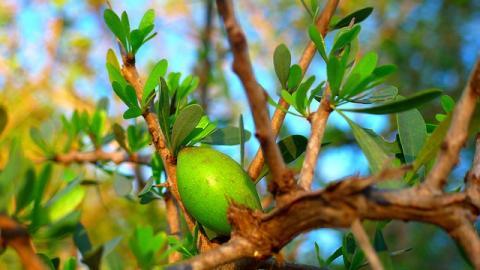 Sleek, shiny, full hair has been revered for ages, and many of us yearn for just that look. However, with today's harsh shampoos, conditioners, hair products and treated hair, that natural shiny look can be very hard to achieve. 
Enter argan oil, known as "liquid gold," native to Morocco and used by Moroccan women for centuries. Rich in vitamins A, C and E, full of linoleic acid and omega-6 fatty acids, argan oil helps to promote cell production, often resulting in healthier hair and skin. Argan oil has been shown to help stimulate hair follicles to promote hair growth, tame frizzy hair, and temporarily repair split ends. 
One of the many wonderful benefits of using argan oil is that it can be applied in small amounts without leaving a greasy residue, adding shine and fullness instead. You can use it daily by adding a few drops of this beautiful oil to your palms and massaging it into your scalp and the ends of your hair. Comb it through and you will have lovely shiny hair.
Once a week, take time for yourself and give your hair a deep argan oil hair treatment. To do this,  rub a dime-sized palm full of argan oil into your hair. Start by massaging the oil along the scalp and proceed to rub through your hair strands, paying particular attention to massaging the oil into the ends of your hair. When your hair has been thoroughly saturated with argan oil (and remember, you only need a small palm full to be effective), put your hair in a clip with a shower cap on and sit in a warm place. Listen to your favorite peaceful music, brew a pot of hibiscus tea, and enjoy the liquid gold filling your hair with nutrients.
Argan oil comes from nuts grown on argan trees, which grow exclusively in the desert soil of the Arganeraie Biosphere Reserve in the country of Morocco. Because these trees grow in such a small area of the world, they are protected by UNESCO - the United Nations Educational, Scientific and Cultural Organization.
In support of women worldwide, argan oil is truly a sustainable, economic boost for the Berber women of Morocco. Argan oil today comes from cooperatives operated by Moroccan women, and the cooperative shares profits with these women. This is an industry that the Moroccan women have managed for centuries. Because the argan trees grow within the protected Biosphere Reserve, the women are trained by international authorities to produce argan oil under cooperatives that help preserve the natural resources throughout the region. 
Not only is argan oil a great way to enhance hair growth and provide shiny beautiful hair, but purchasing authentic argan oil from the cooperatives in Morocco also helps ensure economic growth and stability to millions of Moroccan women. 
Shine on argan oil, "liquid gold" - one of our planet's rarest oils, helping to give us the beautiful, healthy hair we are all looking for!