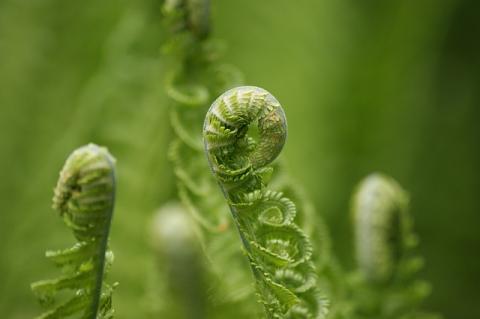 As spring starts peeking around the corner, you might notice all the beautiful fiddlehead ferns starting to arise. They are lovely for looking at and even better for eating. The wild plants are known as "fiddleheads" because they resemble the neck of a fiddle. These gorgeous greens are said to have several health benefits. They are high in fiber, potassium, and magnesium as well as vitamins C and A. But how do you consume them? Well, you could just always eat them raw and right off the fern bush, but you might be turned off by their bitter, asparagus-like taste. In that case, why not check out these five fun ways to prepare and eat fiddlehead ferns.
1.      Sautéed Fiddlehead Ferns
One way to take out the bitterness in fiddlehead ferns is to sauté them with a little oil and herbs. They go great when cooked with green onions, garlic, lemon juice, and a little bit of pepper or sea salt. You can always mix in other vegetables with the fiddlehead ferns as well. Some prefer to strip the leafy particles from the stems before sautéing them, but you don't have to remove them, as they are just as edible as the rest. To keep their nutritional value and flavor, only cook them for 3-5 minutes.
2.      Fiddlehead Fern Toppings
Looking to add a little twist as well as some greens to your pizza, why not try fiddlehead ferns? These make for a tasty topping on pizzas and are also fantastic when baked into a calzone or quiche. You can choose to pre-cook them, or just bake your fern along with the pizza. Another preferred way is to cook the pizza and then wait till the last 10 minutes of cook time to add the fiddleheads on top. That way, they are cooked but still crunchy.
3.      Fiddlehead Fern Salad
If you tired of the same old boring green salads, try making a fiddlehead fern salad! Just throw some fiddlehead ferns and red-tipped lettuce into a bowl, and then add in a little avocado oil, vinegar, small mushrooms, and almond slivers for a delicious hearty salad. You can always add in your own favorite salad toppings, too. Because the raw taste can be a little too much for some, you may prefer to boil or steam the fiddlehead ferns for 3 minutes before eating. When steamed, they still have a tendency to taste bitter-like, but when boiled for 8-10 minutes they have a mild flavor that is comparable to green beans.
4.      Fiddlehead Fern Pesto
For a unique but yummy pesto for your pasta or hummus, try using fiddlehead ferns in your ingredients. Although some people choose to cook them beforehand, you don't actually taste the bitterness when they are uncooked in a pesto. Check out this recipe from Set the Net for a raw, flavorful pesto idea. The lemon juice in this recipe really helps to add flavor, while masking any of the bitterness that raw fiddlehead ferns tend to have.
5.      Pickled Fiddlehead Ferns
If you are like me, and really like the taste of pickled food items, you will absolutely love the taste pickled fiddlehead ferns. When pickled, they taste great added to just about anything, such as salads, pastas, or by themselves. It is recommended that you try and find the tiniest heads you can when pickling fiddlehead ferns because they are said to have a better flavor. Some of the best instructions I have found for people who are beginners at pickling fiddlehead ferns is from thespruce.com. The site provides a fairly easy guide along with some great tips for making one pint jar of pickled ferns. The season for fiddlehead ferns is usually quite short, so this can be a great way to preserve your harvest for later.
Fiddlehead ferns do not have a very long shelf life after being harvested. It is best to handpick fiddleheads and place them into cold water as soon as possible. Harvesting fiddlehead ferns and preparing them can be a fun activity, but if you don't have that option, check to see if there are local places in your area where you can purchase them. It is best to keep in mind that when purchased, fiddlehead ferns should come from a sustainable source.