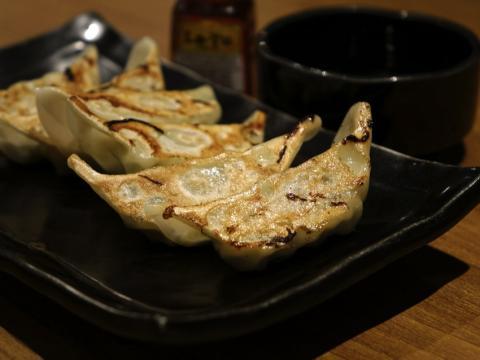 Gyoza is a pan-fried dumpling from Japan, similar to pot-stickers, that commonly has a filling of protein, vegetables and spices. This recipe has been veganized by adding in some fried tofu instead of the traditional meat for the filling, but you could put any type of protein or flavor combinations that you like. The green onion, garlic and chili peppers give this recipe a traditional taste that goes well with your favorite teriyaki or soy dipping sauce.
Gyoza Dumplings (Vegan)
*Makes about 40
Ingredients:
2 cups tofu, crumbled
1 Tablespoon green onion, minced
2-3 cloves of garlic, minced
1 teaspoon crushed red chili pepper
½ teaspoon salt
40 dumpling wrappers (round)
2 teaspoons sesame oil
¼ cup water
Directions:
-Over medium heat, cook the crumbled tofu in a large sauté pan with 1 teaspoon of sesame oil for about a minute (or until the tofu has firmed up slightly).
-Add the green onion, garlic, chili pepper, and salt, and continue to cook for about five minutes, stirring constantly.
-Remove from heat and set aside.
-Prepare the dumpling wrappers by spooning a small amount of the filling into the center of the circular wrapper.
-Now wet your fingers and run them along the outer edge of the wrapper until it is slightly wet and sticky.
-Fold the edges of the wrapper up around the filling to create a "half-moon" shape, adding more water along the edges as needed.
-Repeat this process until all the filling is gone (you should end up with about 40 dumplings).
-Heat another teaspoon of sesame oil on medium-high and place the dumplings on their sides into the pan.
-Fry the dumplings for about 2 minutes or until browned on the bottom, and then add ½ cup of water and cover the pan with a lid.
-Reduce the heat to low and allow to cook for another 2 minutes. The dumplings will be softened by the steam when they're done. Repeat the cooking process for all 40 dumplings.
-Allow to cool before serving.