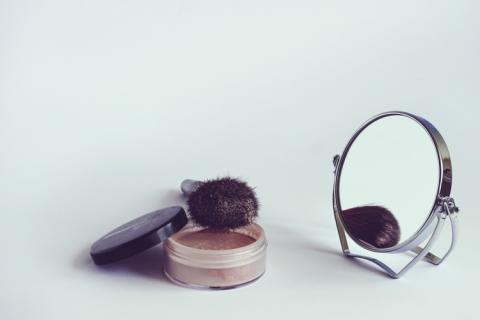 Foundation and blush are great for really giving your skin an overall glow. That said, it can be hard to find all-natural versions at an inexpensive price. With these recipes, you'll never have to worry about running out of your favorite foundation or blush: You'll know a recipe you can make on the fly to replace it in a jiffy!
Foundation
Foundation is tricky, since everyone has a different complexion. Not to mention a person's skin type can also play a role in which foundation works best for you. This particular recipe isn't necessarily a liquid foundation, but it's not altogether powder either. Rather, it's designed to be compact with a slightly creamy finish.
Ingredients:
1 tsp – 1 tbs of arrowroot powder (1 tsp for dark skin – 1 tbs for light skin)
1 tsp – 3 tbs of cocoa powder (can be substituted with cinnamon or nutmeg)
1 tsp – 1 tbs of jojoba oil (can be substituted with olive or almond oil)
Directions:
In a bowl, add the arrowroot powder. If you have lighter skin, more is preferable, less if you have darker skin. Since everyone's skin is different, there is no wrong or right amount of colorant (cocoa powder, cinnamon, or nutmeg) to add. You don't have to stick with my colorant measurements – they're just there as a guide. Generally speaking, start with less colorant, then add more until you feel you've matched your skin tone. To make the foundation compact, add some jojoba, almond or olive oil to the mixture, then press down into a compact. All that's left to do is use a cruelty-free foundation brush to apply your homemade creation!
Blush
While blush can come in an array of different colors, I've decided to stick with pinks and browns for this recipe since those are the most common blush colors. That said, feel free to experiment and see if you can create a completely unique blush color on your own if none of these appeal to you. This blush recipe creates a powder blush, not a cream blush.
Base Ingredient:
½ tsp of arrowroot powder
Natural Colorants:
½ tsp – 1/8 tsp beetroot powder (creates a pink blush)
½ tsp – 1/8 tsp hibiscus powder (creates a reddish-pink color)
½ tsp – 1/8 tsp cocoa powder (creates a nice smoky rose color when combined with beetroot and hibiscus powder)
Directions:
In a small bowl, add the arrowroot powder and colorant of your choice. You may combine different colorants and experiment with different measurement amounts to create the color you desire. Generally speaking, the more colorant you add, the bolder the blush will be. Simply mix ingredients together with a spoon. When you've created the perfect color, put it in an air-tight container for storage. Be sure to test it out on your skin to make sure it looks just as good on you as it does in the container!
Since these ingredients don't contain preservatives, you'll find they have a shorter shelf-life than conventional products. For best results, use within 2-4 weeks.