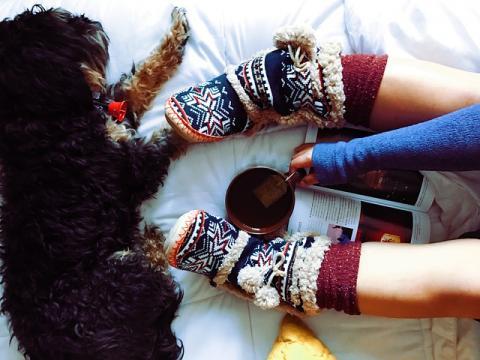 Aside from the lucky ones that live in 60-degree Decembers, most people are experiencing the sweater layers of winter. While there are definite perks to having a season of rest and renewal, the prolonged cold can also make us lethargic or unmotivated. How can we channel the warmth and activity of summer when it's gray outside?
Before you resort to wearing a full outfit of sewn-together blankets, try these lifestyle hacks to warm up.
Drink licorice tea. Brewing a boiling cup of herbal tea seems like a no-brainer, but for the steamiest impact, make it licorice tea. The spicy-sweet flavors give extra heat, and the more robust body (compared to, say, peppermint tea) packs the final punch. My recommendation? Yogi Tea makes an incredible Egyptian Licorice Mint that got me through three Boston winters. (Brrr.) Need some variety? Try these warming drinks that aren't coffee or tea.
Whip out the hot sauce. Right at this moment, thousands of Crock-Pots are simmering away with hearty stews. Winter appetites love hot foods. But no matter how you stir it, you're eventually going to get tired of soup. Mix up the conventional warming meals with another heat factor: spices. Get liberal with chili powder, shake out a few drops of hot sauce, and be brave with the three-pepper rating at the Chinese restaurant. Feels good to eat something that doesn't require a spoon, doesn't it?
Invest in some seriously cozy socks. Every year, people get excited about chic coats, sweater weather, and giant scarves, but what about your feet? Maybe it's because they're not very Pinterest-worthy, but they are worth some attention. Trouser socks and ankle boots just won't cut it on a chilly day. Instead, stock up on socks made of soft wool or cashmere that are twice as thick as your usual pair. It may seem like this small part of your body won't make a difference, but trust me, it's like night and day.
Roll out the mat. Even five minutes of yoga or stretching can generate a happy buzz. Start your morning with sun salutations, sneak in a few minutes of flow when you get home from work, and squeeze in a chaturanga before bedtime. Using your own body weight to hold poses means your whole body gets a workout, sending warmth from head to toe. It also gives you a great excuse to get out of jeans and into comfy pants.
Give a lot of hugs. Cheesy but true, sticking together pays off. Sometimes, a cold day chills you to the bone and it feels like nothing will get in the way of that. But when you're radiating love and connecting with others, there's a (super cliché, yet) wonderful warmth to it.