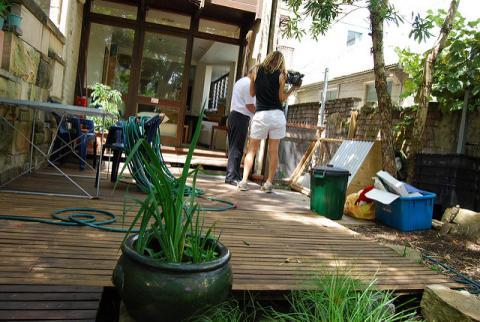 If you're someone living in an urban setting, yet still trying to live as close to the earth as possible while doing so, then you may have considered urban gardening in the past.
My backyard is a paved-over pocket in the city that I call "the oasis." It's just enough room for a few reclining lawn chairs, a grill, and six potted plants. It's not much, but it's just enough to feel like I have a little nature right out my back door.
Living in an urban area, you have to make the most of all your spaces, especially if you have any outdoor room. A well-planned
garden, no matter how small, can make a big difference in your home. 
Containers: 
There are many options depending on your space available. A gardening container is one of the easiest ways to produce vegetation without taking up too much room. You can grow anything from peppers to potatoes with these.
Smaller containers/pots are best for crops like carrots and lettuce. The deeper containers are better for vegetables like tomatoes and beans, which have longer root systems. You can also use a five-gallon bucket for some of your crops in a pinch. There are many different ways to do it. Get some ideas here.
Hang it up:
If you don't have a lot of ground space, go vertical! Growing in hanging pots is a good way to make use of available space. Herbs such as thyme, mint and parsley are great for hanging baskets. 
Trellises: 
Vine vegetables can grow on trellises and can also save some space in your home space. Create a little garden corner complete with a trellis for a Zen spot for yourself. 
Head inside:
If you don't have space to grow outside, don't give up! There are some varieties of produce that will grow indoors under the proper conditions. Carrots, microgreens, salad greens and mushrooms work well indoors, as do many herbs as they don't take up too much space and require little maintenance. These also work in smaller containers, making them more conducive to indoor spaces. We've also written about some great herbs for your windowsill here.
Find a space inside with enough sunlight, or get a set of grow lights, which are ideal for growing plants from seedlings. Indoor planters can also be a great asset indoors.
Terrariums:
Terrariums are glass containers that can be opened for maintenance. This is a great option for those that don't have space outside, and would like to create a little visual effect with their indoor growing efforts.
With winter around the corner, having plants inside can help beat the winter blues and improve air quality. A win-win! Terrariums aren't difficult to use, and you can even make your own with the help from guides online.
Window boxes:
Yardless friends, don't fret. A window box can be a great alternative if you are low on space.
Window boxes can be purchased at home improvement stores and can yield great results. Some plants that are perfect for this method include strawberries, spinach, green onions and various herbs.
When taking on an urban garden project, be sure to read up on soil and other tips to maximize your growth potential. Things such as used coffee grounds and egg shells can be used in conjunction with your soil for compost to enrich your soil.
Lastly, plan ahead for your crops. Determine where in the home you'd like your garden, whether there is adequate sunlight, and what container is correct for the space/plant. This will lead you to gardening success, green thumb or not!
Cover Photo Credit: "Australian Sustainable Backyard" by Nicolás Boullosa is licensed under CC BY 2.0
Image 3 (Trellises) Photo Credit: "IMG_5292" by roman.petruniak is licensed under CC BY 2.0
Image 4 (Plants on Shelf Inside) Photo Credit: "Food Show 026" by Rachel Tayse is licensed under CC BY 2.0
Image 6 (Window Boxes) Photo Credit: "Beacon Street and Boston Public Park Spring April 2014" by uniquelycat (Cathy) Smith
is licensed under CC BY 2.0