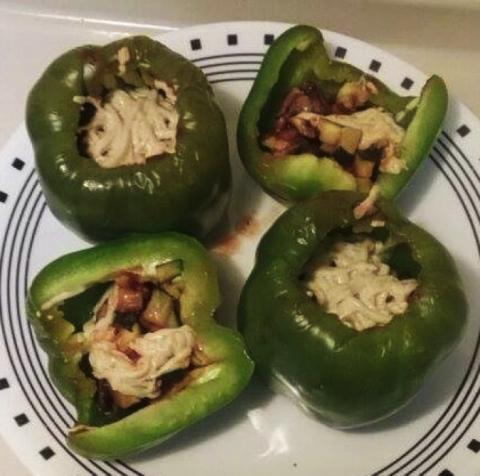 These stuffed peppers are a great veggie entrée or side when you're grilling! Cheesy and savory, both vegans and omnivores are sure to love them. Clean-up is easy for this one too, since all you're cooking in is a bit of foil. The peppers are surprisingly filling, so you can serve them on their own or cut in half as a side dish; I like to pair them with rice, cous cous or mashed potatoes. As always, feel free to experiment with different sauces, spices and vegetables to make them your own!
*Makes 4*
Ingredients & Special Supplies
4 bell peppers
1 cup marinara sauce
1 cup chopped white onion
1 cup chopped zucchini
1 cup chopped mushrooms
1 cup mozzarella-style vegan cheese (shredded)
Aluminum foil
Directions
Cut out the stem of the peppers and clean out the insides, just like when you're carving a pumpkin.
Sautee the onion, zucchini and mushrooms over medium heat until just softened (about 3 minutes) and then remove from heat.
Mix in the marinara sauce with the onion, zucchini and mushrooms before spooning the mixture into the peppers. Do not completely fill the peppers, leaving about ½ an inch on top. 
Fill each pepper with cheese and cover with aluminum foil.
Place the peppers in the oven or on the grill to cook.
If you are using an oven: cook at 350 degrees for about 10 minutes, checking them often. If you are using a grill: cook for about 5 minutes, checking them very frequently.
Remove from grill or oven and allow to cool before serving.