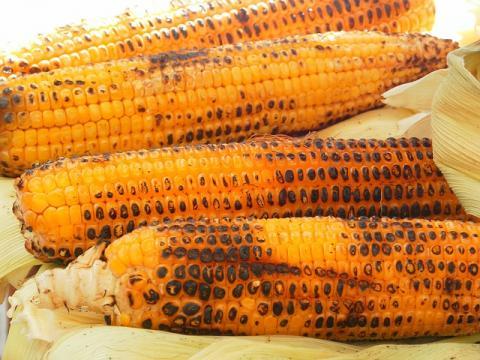 Part 2 of 2: Five amazing recipes for grilling your fruits and veggies this summer! Check out Part 1 here!
If you're like me, there is something definitely delicious about the smoky flavor that you get from grilling. Plus, grilling can be a really easy, healthy way to cook your vegetables and fruit. Here are 5 healthy mouthwatering ideas for grilling your fruits and veggies this summer.
6. Grilled Corn On the Cob
Ingredients: 
8 ears corn on the cob with the husks and silk still on them
1 gallon of warm water
1/2 cup butter
1/2 cup salt
Directions:
Pour the warm water into a large pot, and stir in 1/2 cup salt until dissolved. Place the ears of corn into the pot, and allow to soak at least 30 minutes but no longer than 8 hours. Preheat an outdoor grill for high heat, and lightly oil the grate. Remove the corn from the soak and grill the ears, turning every 2 to 3 minutes to cook the kernels on all sides. Brush the grilled corn with butter.
7. Grilled Sweet Potatoes with Apple Slices
Ingredients:
2 large sweet potatoes, sliced
1 apple - peeled, cored and thinly sliced
1/2 cup oil or butter
Ground cinnamon to taste
Directions:
 Preheat grill to medium-high. In a bowl, toss the sweet potato and apple slices with the cinnamon. Divide the mixture into 4 portions, and place each on a large piece of aluminum foil. Top each with an equal amount of oil or butter. Tightly seal foil around each portion. Place foil packets on the grill, and cook for 40 minutes, turning every 5 to 10 minutes, until potatoes and apples are tender.
8. Grilled Pepper Salsa
Ingredients:
6 plum tomatoes cut in halves
1 small red onion, cut in half
1 fresh poblano or 2 jalapeno chilies
1/4 cup chopped fresh cilantro
2 teaspoons lime or lemon juice
1/2 teaspoon kosher salt
Directions:
Preheat grill to high. Grill the tomatoes and onion, turning frequently, for 10 to 15 minutes or until the vegetables are lightly charred but still firm inside.
Grill the chilies until blackened on the outside. Coarsely chop the tomatoes and onion. Peel the skin from the chilies, seed the chilies, and chop. Combine the vegetables in a bowl with the cilantro, lime juice, and salt. Serve at room temperature. This can be covered and refrigerated for up to 2 days.
9. Grilled Beets with Garlic and Balsamic Vinegar
Ingredients:
1/3 cup balsamic vinegar
1 teaspoon chopped fresh rosemary
1 clove garlic, peeled and crushed
1/2 teaspoon herbs de Provence
3 medium beets, sliced into rounds
Sea salt and ground pepper to taste
Directions:
Preheat outdoor grill for high heat, and lightly oil grate. In a medium bowl, mix balsamic vinegar, rosemary, garlic, and herbs de Provence. Place beets in the mixture, and marinate at least 20 minutes. Place the beets and marinade mixture on a piece of foil large enough to wrap all ingredients, and seal tightly. Place the foil packet on the prepared grill, and cook 25 minutes, or until beets are tender.
10. Grilled Seasoned Greens
Ingredients:
Chopped kale leaves
Chopped chard leaves
Green onions, trimmed
Green beans, trimmed
Asparagus, trimmed
¼ teaspoon sea salt
1 small garlic clove, crushed
1/2 a lemon squeezed over the greens
¼ cup oil
Directions:
Preheat grill to medium heat. Brush greens with sea salt, lemon juice, garlic, and oil. Place all the greens on foil and fold into packet. Place packet on the grill. Grill for 5-8 minutes on each side. Watch them to make sure they don't get too dark. Cool and eat.
Want more of these mouthwatering grilling ideas? Check out 5 more here!