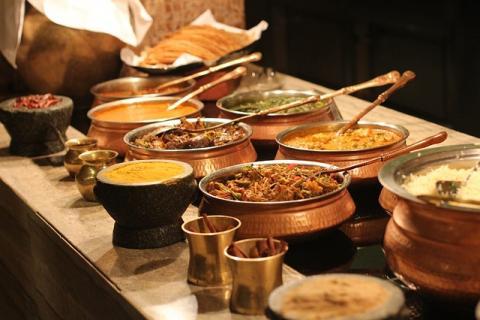 Authentic Indian Recipes Direct from Mumbai
Cooking authentic Indian food is actually much easier than many people realize. Indian buffets at restaurants are hit or miss, and nothing beats home cooking  -- no matter what country it originates from. Utilizing spices, having the right kitchen gadgets, and possessing a sense of adventure are all you need to create mouthwatering delicacies. Mumbai is the hub of India where an influx of different regions, communities, and recipes merge.
Unlike western recipes, most Indian cuisine is created to taste. That means it can be as spicy and strong as you prefer. Just like anything else, it can take a little trial and error. Start building your spice rack today and experiment until the recipes are right for you. Follow these tips that came straight from a Gujarati housewife in Mumbai (also known as my mother-in-law!).
Below I'll provide a recipe for an authentic Indian dinner recipe: Moong Dahl with a savory Halwa dessert!
Kitchen Must-Haves
Most Indian kitchens don't traditionally have an oven, although that's changing. All traditional Indian food can be prepared on a stove top and many dishes require a pressure cooker and frying pan. A pressure cooker is a must to prepare one of India's best vegetarian dishes, dahl.
Moong Dahl
Fill the pressure cooker halfway with water and pre-soak one cup of split Moong dahl for at least two hours. Begin preparing the additional ingredients in a frying pan while the dahl softens (usually five whistles). Heat vegetable oil in a pan until sizzling and add 1 tsp. cumin seeds until they are brown but not burned. Shred a handful of red chilies (remove seeds to avoid spice), dice and add two green chilies, 10 curry leaves, and ¼ cup of grated fresh ginger root to the pan.
Add ¼ tsp. of turmeric powder to taste, one full diced yellow or red onion depending on preference, and one pinch of asafoetida. Stir the mixture in the pan and add to the dahl in the pressure cooker. Add freshly squeezed lemon juice right before serving. This is a traditional recipe that's meant to be a bit bland, so add salt to taste.
Halwa or Sheera
Halwa or sheera is a typical, delicious Indian dessert that's very easy to make. Melt ½ cup of ghee (Indian butter) in a pot and add four pods of cardamom, four sticks of cloves, and two sticks of cinnamon. Add ½ cup of cashew pieces and ¼ cup of raisins to the pot and stir until cashews are golden brown. Add one cup of semolina and stir until there are no dry spots left.
Add two cups of water, mix well, and cover the pot for two minutes. Finally, add one cup of sugar, stir again, and cover the pot for one full minute. Halwa is served warm like a pudding. Although it's called different names throughout India, it's a favorite dessert in every community.
The dinner and dessert dish make for an authentic Indian dish that you're sure to enjoy cooking, no matter your level in the kitchen!
Now that you have experienced making your first authentic Indian cuisine, are you hooked? Share some tips and tricks you have learned below!