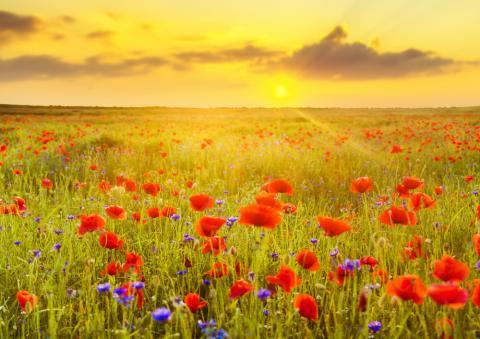 There are close to 90 million dogs in the United States and an even higher number of cats. While these pets—for many of us, companions, best friends, and loyal members of our family—often go on to have full lives, their passing is unfortunately inevitable. Burying our loved animals in the backyard is often the best choice, but is not always practical or possible. Beyond these considerations, it's worth looking into the environmental impact of pet burial, both to honor your deceased pet and also lessen the impact on the earth.
Burial and cremation are often considered as the only two real options for pets, but there are a number of possibilities that should be considered to reduce environmental impact. These include pet cemeteries, bio cremation, whole-family cemeteries, and green cemeteries that double as wildlife preserves. 
Pet Cemetery
For those who don't own land or are prohibited from burying their pets due to local law prohibitions, pet cemeteries are a great choice. Unlike Stephen King's version, most pet cemeteries utilize green pet burial techniques and are a good choice for several reasons:
Many pet cemeteries use biodegradable materials during burial, allowing for natural decomposition and avoiding long-term impact.
Local laws may not allow for backyard burial.
Many pet cemeteries offer a funeral in which closure might be easier for some. 
Unfortunately, not all pet cemeteries utilize non-toxic, biodegradable materials. For this reason, looking specifically for green pet cemeteries may be necessary. The Green Pet-Burial Society has published an online directory of pet cemeteries, broken down into several categories that include hybrid pet cemeteries, low-impact pet cemeteries, natural pet-burial grounds, and conservation pet-burial grounds/wildlife preserves, all with varying levels of environmental impact. 
Cremation
Cremation is often seen as a less environmentally-impactful option, but cremation typically uses natural gas, resulting in greenhouse gases being released into the atmosphere. Additionally, toxic chemicals that may have been in the body, such as mercury in fillings, are released upon cremation.
There are several companies that now offer bio cremation or aquamation which utilizes water and an alkali solution rather than flame to cremate the body. 
Eternal Reefs
Eternal reefs are a great way to cremate your pet responsibly while also aiding marine life. Cremated remains are mixed with other sediment to create a reef-like structure that is placed in the ocean following a special viewing for closure. Several family members can be included in these eternal reefs, along with pets, as only a small amount—or even no—cremated remains need to be included. Additionally, it's possible to include handprints, messages, and other mementos that are not environmentally harmful. Seashells are provided to further customize the eternal reef.
Green Shrouds
A shroud may seem like a very simple option, but it is one that can be tremendously satisfying and environmentally responsible. Rather than burying your pet in a toxic material that will not disintegrate, several companies offer organic cotton shrouds where pets can be placed upon burial. These cloths can be infused with organic material, like mushrooms, that can speed the process while promoting new growth. Planting a tree or special plant to symbolize your loved pet works particularly well with these.
Conservation Cemeteries/Wildlife Preserves
Wildlife preserves may sound like the most idyllic pet burial option, and in some ways they are. Conservation cemeteries offer natural burial that focuses on restoring and maintaining the land to its natural state—as such, burial grounds are dotted in native flora and fauna rather than fence line and pristine green grass. Not all conservation cemeteries allow pets, but many do. 
Saying goodbye to your pet is always difficult, but the loss is often made easier when you're able to honor your loved one. Choosing green pet burial options means that you can also rest assured knowing that you've kept the environmental impact low, as well.